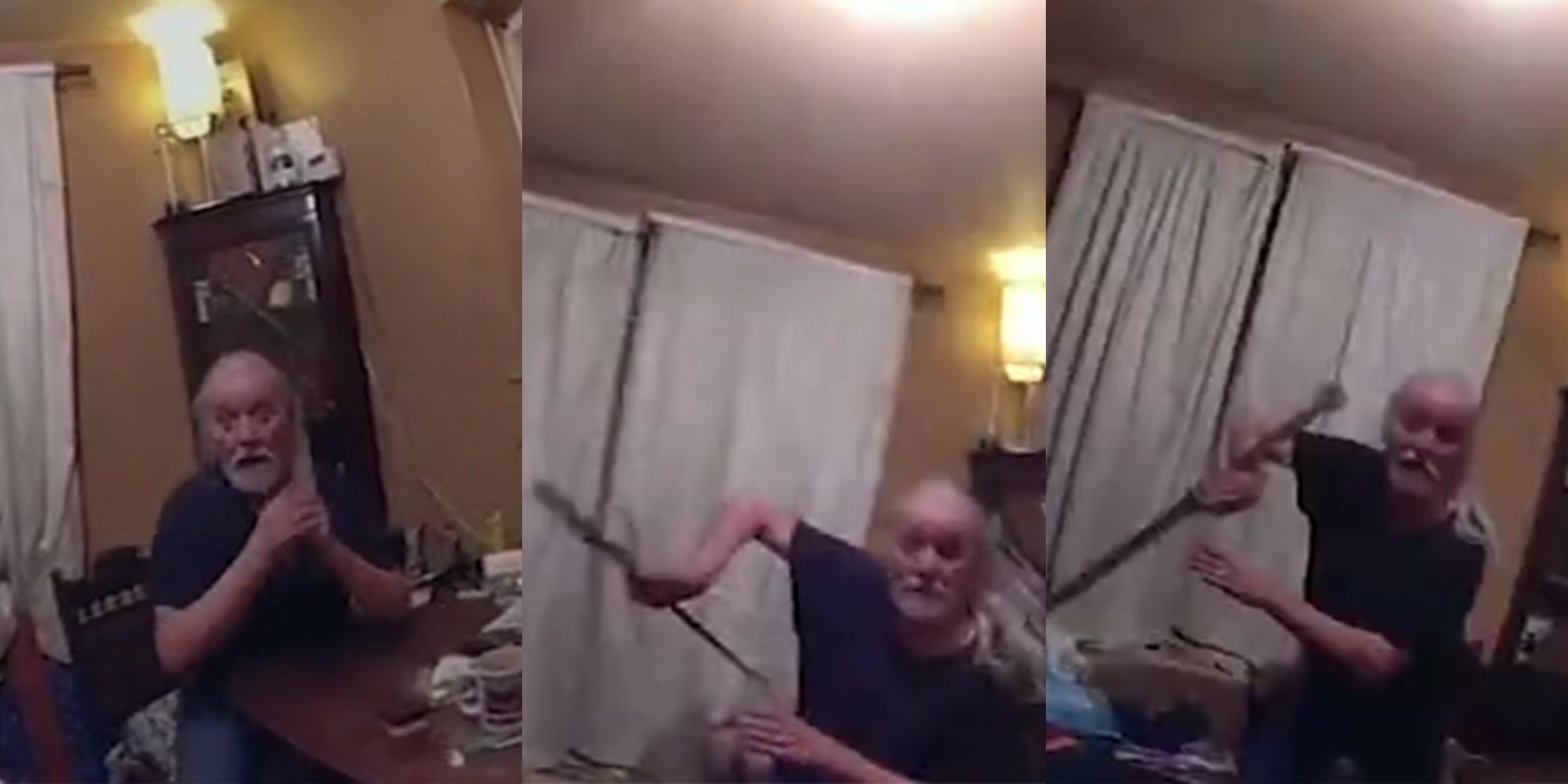 A London man was sentenced to more than seven years in prison after lunging at a police officer with a 4-foot sword, a video of which recently circulated online.
Police body camera footage shows the assailant, 63-year-old Anthony Browne, lunging at an officer in his home, Yahoo News U.K. reports. The attack took place on Nov. 30, 2020, when police visited an address in Dagenham, London, after receiving reports of a disturbance.
In the short video, shared Sunday by popular Twitter user Fifty Shades of Whey (@davenewworld_2), the officers can be seen approaching Browne, who sits at a table. As they get close, Browne gets up out of his chair, brandishes a sword from behind, and chases the officers out of the room.
One officer hits Browne with a stun gun and tells the man, "On your knees."
Browne reportedly broke the officer's hand and partially severed a finger with his sword during the altercation. The officer received surgery and ongoing treatment, but his injury was not life-threatening.
Police arrested Browne on suspicion of grievous bodily harm with intent and common assault. He admitted to grievous bodily harm in court on Friday and was sentenced to seven years and four months in jail.
Detective Chief Superintendent Stephen Clayman said, "Anyone watching the body-worn video footage will agree that it is completely unacceptable that officers are met with extreme violence like this."
Clayman added, "The fact [that the officer's] injuries were not life-threatening was fortunate, particularly for Browne, who could have found himself facing even more serious charges."
Some Twitter users have noted the stark contrast between the London officer's successful de-escalation and arrest and the excessive force often displayed by American police, as in the recent police shooting deaths of 13-year-old Adam Toledo and 20-year-old Daunte Wright.
"This is what US Law Enforcement should look like," user @MonkeeCheek tweeted. "Instead we have #WhiteSupremacistFascists who will murder you—especially if you're Black—just as soon as look at you."
The post Video shows man lunging at cops with 4-foot sword appeared first on The Daily Dot.