Ben Simmons and his camp will sit down with the Nets and hammer out a plan for the ensuing months, one intended to put him on the best path to both physical and mental health and a successful return to the court. 
"We will work together with the Nets on a summer plan," a source close to Simmons told The Post. "Everyone is confident." 
Source:
Brian Lewis @ New York Post
What's the buzz on Twitter?

Brian Lewis
@
NYPost_Lewis
#Nets
, Ben Simmons commit to work together in offseason: 'Everyone is confident'
nypost.com/2022/05/14/net…
via
@nypostsports
–
10:33 PM
Aaron J. Fentress
@
AaronJFentress
Hypothetical: Nets balk at bringing back Kyrie. KD wants out but Portland can't land him. However, Ben Simmons becomes available.
Would you trade a good player not named Lillard or Simons AND the 6th pick (assuming it remains there) for Ben Simmons?
Me: In a heartbeat. –
12:53 PM

Dwight Jaynes
@
dwightjaynes
Just wondering… where are all those armchair GMs who wanted the Trail Blazers to give up years worth of picks and players to obtain Ben Simmons or James Harden? –
9:48 AM

Andrew Bogut
@
RogueBoguesPod
Basketball Pod Ep 64 – @HoopConsultants and @andrewbogut discuss the latest with Ben Simmons.
Listen to it here 👇
https://t.co/u0OwdyWBh0
#LetsGetRogue #RogueBogues #BenSimmons #Injury
pic.twitter.com/VusT07A55d
–
7:07 PM

Brian Lewis
@
NYPost_Lewis
#76ers
are the real losers in James Harden-Ben Simmons trade bust
#Nets
#NBA
nypost.com/2022/05/13/six…
via
@nypostsports
–
3:02 PM

Tommy Beer
@
TommyBeer
Ben Simmons' most recent liked tweet:
pic.twitter.com/YYj3sPlwQJ
–
9:48 AM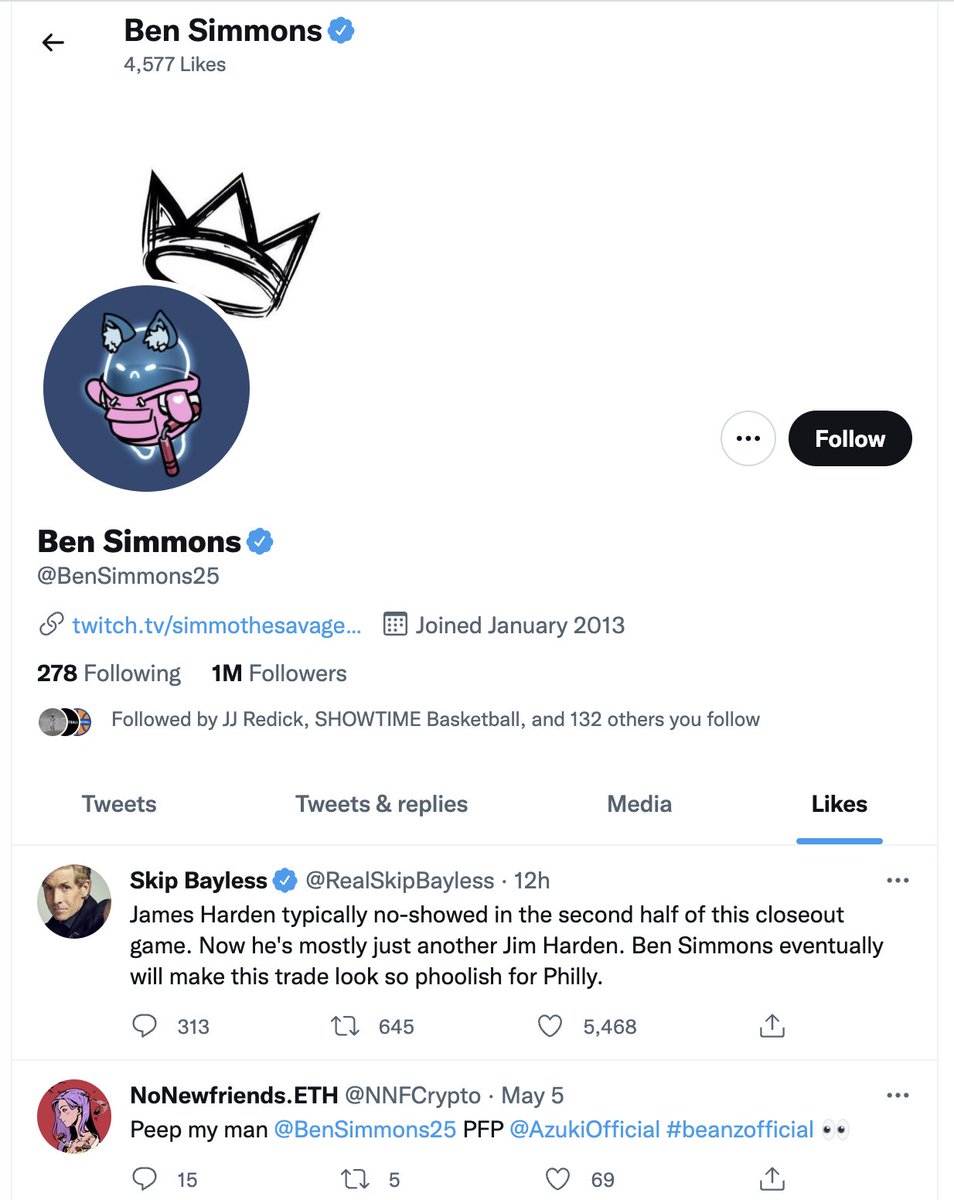 Lev Akabas
@
LevAkabas
Philadelphia 76ers' four drafts after Embiid:
2015: Drafted Jahlil Okafor one spot before Porzingis
2016: Drafted Ben Simmons one spot before Brandon Ingram
2017: Drafted Markelle Fultz two spots before Tatum
2018: Drafted Mikal Bridges, traded him for Zhaire Smith –
9:00 AM
Law Murray
@
LawMurrayTheNU
Both the Nets and 76ers needed Ben Simmons this postseason more than James Harden tbh –
11:05 PM
Ryan McDonough
@
McDNBA
We now have a clear winner from the James Harden/Ben Simmons trade…the other 28 teams who weren't involved –
10:57 PM
Aaron J. Fentress
@
AaronJFentress
Hey, Philadelphia 76ers fan, how ya feeling about trashing on Ben Simmons now?
Good luck with paying Harden $250 million over the next 5 years or losing him and thus Simmons and other assets for nada. –
10:40 PM

Rob Perez
@
WorldWideWob
Ben Simmons and James Harden attempting the same number of second half shots in Philly's last two elimination games was the only way this could have ended. –
10:00 PM
StatMuse
@
statmuse
James Harden has 0 points in his last two 4th quarters.
Ben Simmons had 3 points in his last two 4th quarters with the Sixers.
pic.twitter.com/HrUNtzLowQ
–
9:43 PM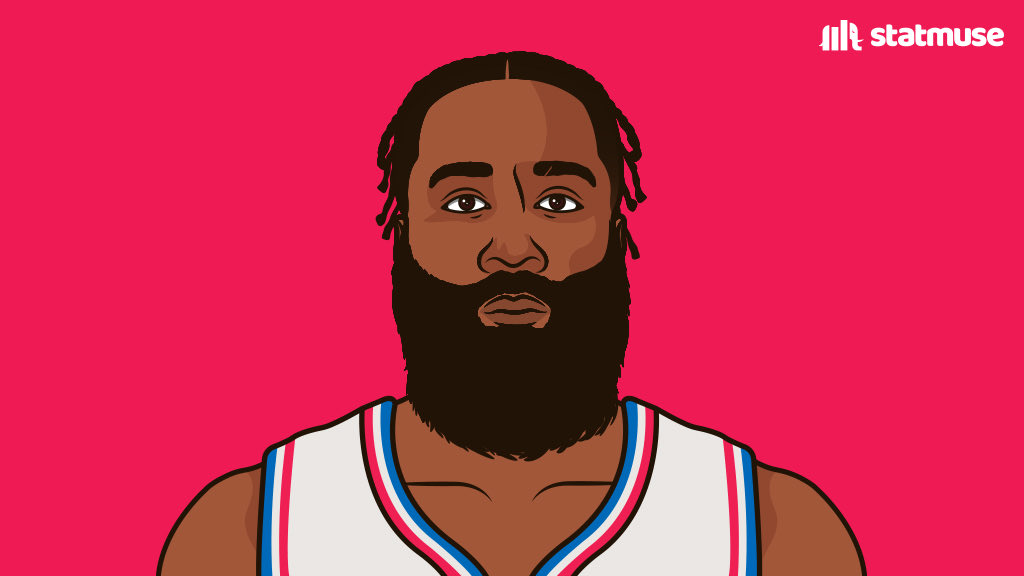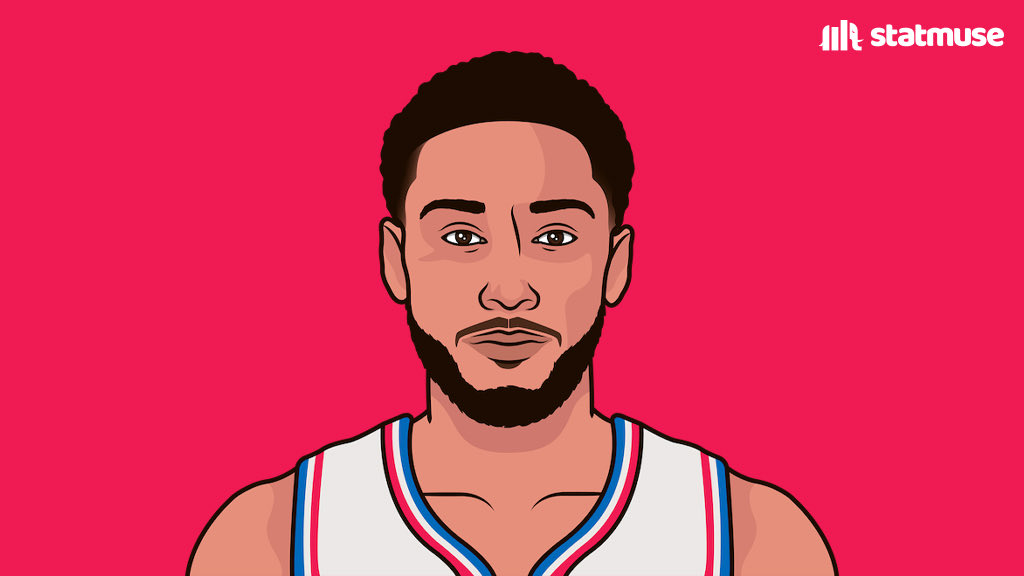 Tom Haberstroh
@
tomhaberstroh
Ben Simmons' final 4Q last year
vs.
James Harden's final 4Q this year
pic.twitter.com/7fRI5wFWwf
–
9:37 PM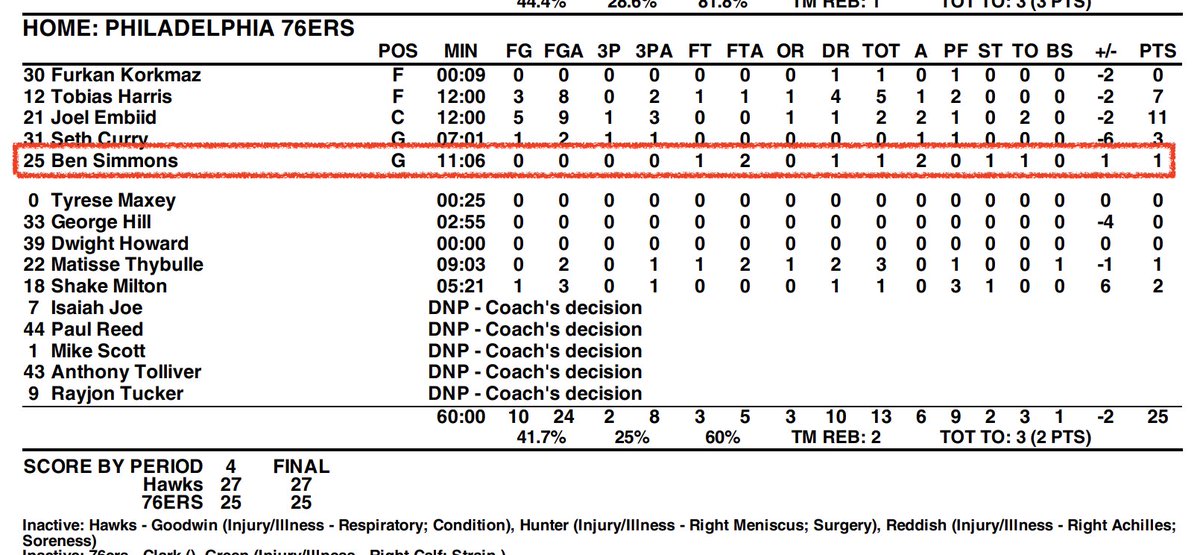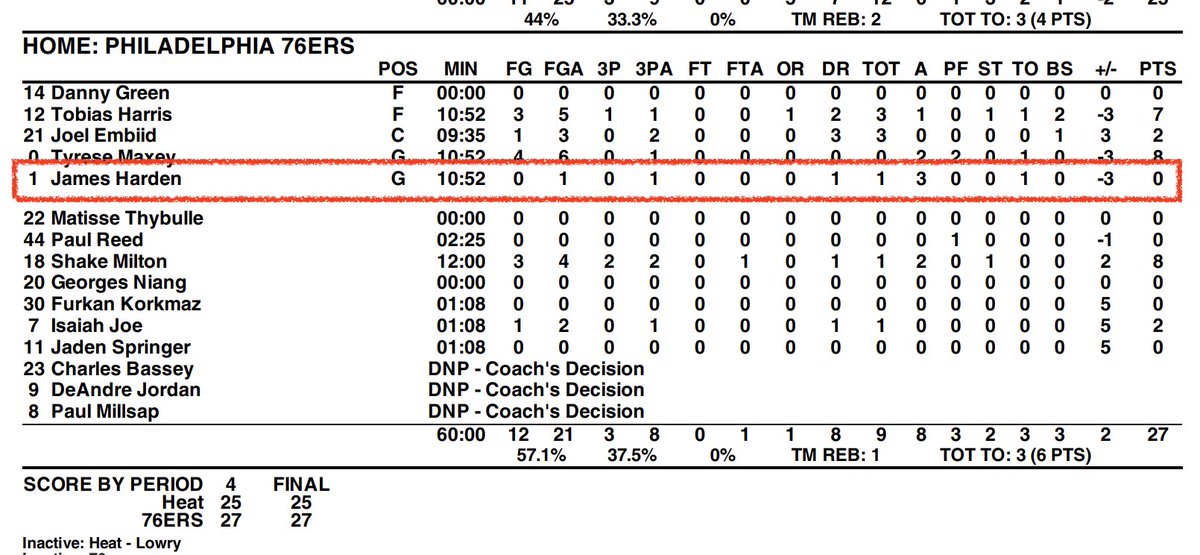 StatMuse
@
statmuse
Points in the 2nd half tonight:
0 — Ben Simmons
0 — James Harden
pic.twitter.com/Ff7YziHPHp
–
9:31 PM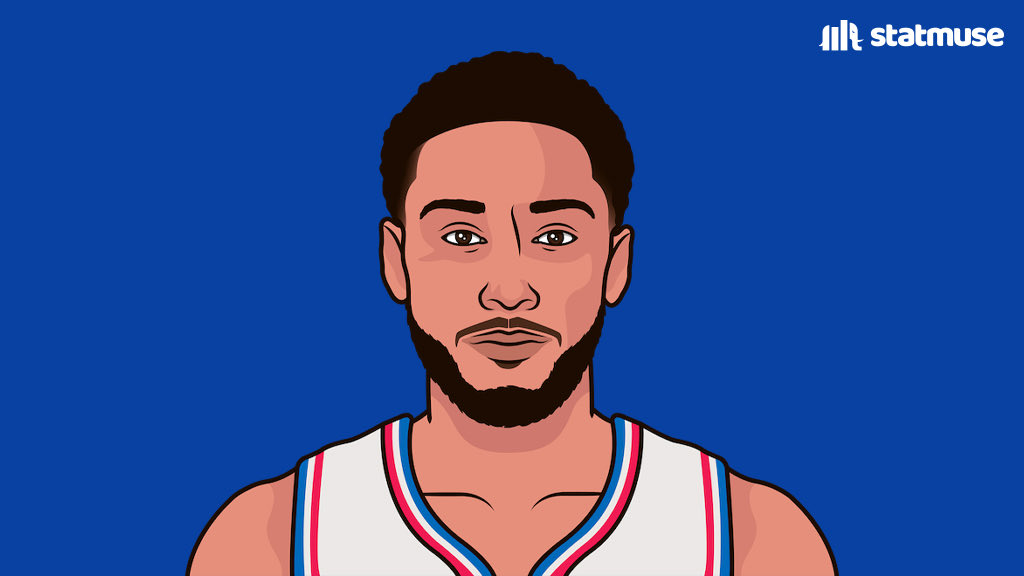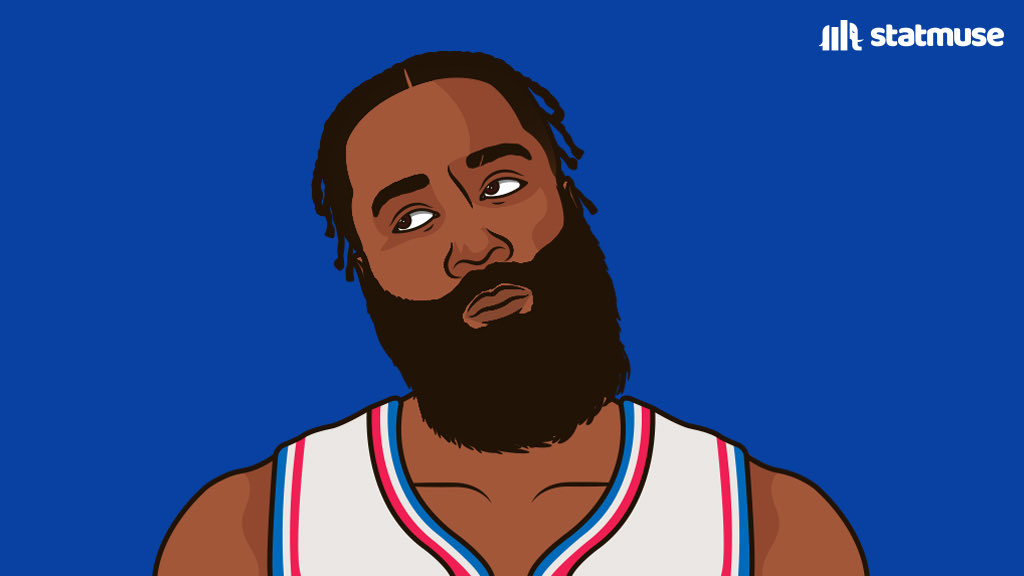 Tommy Beer
@
TommyBeer
Ben Simmons stats in the infamous Game 6 loss to the Hawks in 2021:
5 points (2-of-4 shooting)
8 rebounds
13 assists (vs. just 2 turnovers)
+1 plus/minus
James Harden in Game 6 tonight vs. the Heat:
11 points (4-of-8 shooting)
4 rebounds
9 assist (vs. 4 turnovers)
-15 plus/minus –
9:26 PM
Jason Dumas
@
JDumasReports
Sixers will have some tough questions to answer this off-season. Ousted by a player they chose Ben Simmons over. Acquired a co-star who appears to be sliding out of his prime. Not much roster flexibility due to contracts. Fanbase frustrated with coach. Morey has a full plate. –
9:17 PM
Tim Reynolds
@
ByTimReynolds
2nd-half shots tonight (with 8:00 left) …
James Harden 1
Ben Simmons 0 –
9:15 PM

Tony Jones
@
Tjonesonthenba
The Sixers moved heaven and earth to acquire James Harden because Ben Simmons wouldn't shoot the ball with the season on the line, only for Harden not to shoot the ball with the season on the line…cold world, man –
8:51 PM

Kurt Helin
@
basketballtalk
Report: 76ers felt they must choose between Ben Simmons and Jimmy Butler
nba.nbcsports.com/2022/05/12/rep…
–
4:06 PM

Alex Schiffer
@
Alex__Schiffer
From yesterday, Sean Marks and Steve Nash held their postseason press conference and discussed Kyrie Irving, the change in the culture, Ben Simmons and more:
theathletic.com/3306751/2022/0…
–
10:06 AM
The Nets want the rehabbing Simmons to be in Brooklyn as much as possible, putting Philadelphia as far in the review mirror as he can. The 25-year-old finally is offloading his South Jersey mansion, which can only help toward that end, one small step. 
Simmons — who forced a trade from the 76ers to the Nets on Feb. 10, but didn't play at all this past season — sold his suburban mansion in Moorestown, N.J., for $4.55 million, and has his condo in the Ritz Carlton Residences in downtown Philadelphia on the market as well. Both listings were reported by The Dirt. -via
New York Post
/ May 15, 2022 Alex Schiffer:
Sean Marks said Ben Simmons had a follow-up MRI after the back soreness returned before Game 4 and it revealed the herniation had expanded. At that point, the only option was surgery
. -via
Twitter @Alex__Schiffer
/ May 11, 2022 Ian Begley:
Nets GM Sean Marks says he's spoken to Ben Simmons after his recent back surgery and Simmons is feeling 'great.' He notes Simmons' ramp-up during BKN's 5-month offseason is important for himself and the team. Said Simmons can fill a 'gaping hole' in Nets' roster
. -via
Twitter @IanBegley
/ May 11, 2022