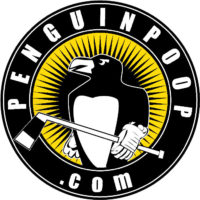 A couple of weeks ago I posted an article expressing my belief that our Penguins may actually have a legit shot at capturing the Stanley Cup. Just before a catastrophic wave of injuries rolled in like a giant shiny tsunami and swept away a handful of our key forwards.
I thought for sure we'd had it. The Sports Illustrated cover jinx has nothin' on the Buker PenguinPoop jinx.
Yet our Pens have kept a rollin' with near metronomic precision. A brief hiccup against the Devils aside, the black and gold has steamrollered every foe in sight to ring up a five-game winning streak. We're 12-2-1 in our last 15.
Remarkable, especially when you consider the chunk of talent that's been missing of late, none more critical to the team's success than Mr. 101, Evgeni Malkin.
In that article, I drew comparisons to our 2016 Cup winners. How that team started slowly before it gradually gained momentum and caught fire down the homestretch. Just as this bunch is doing.
Did I mention that Malkin missed the final 15 regular-season games that year with an elbow injury?
Continue reading Penguins Keep a Rollin' at Pittsburgh Penguins - PenguinPoop Blog.