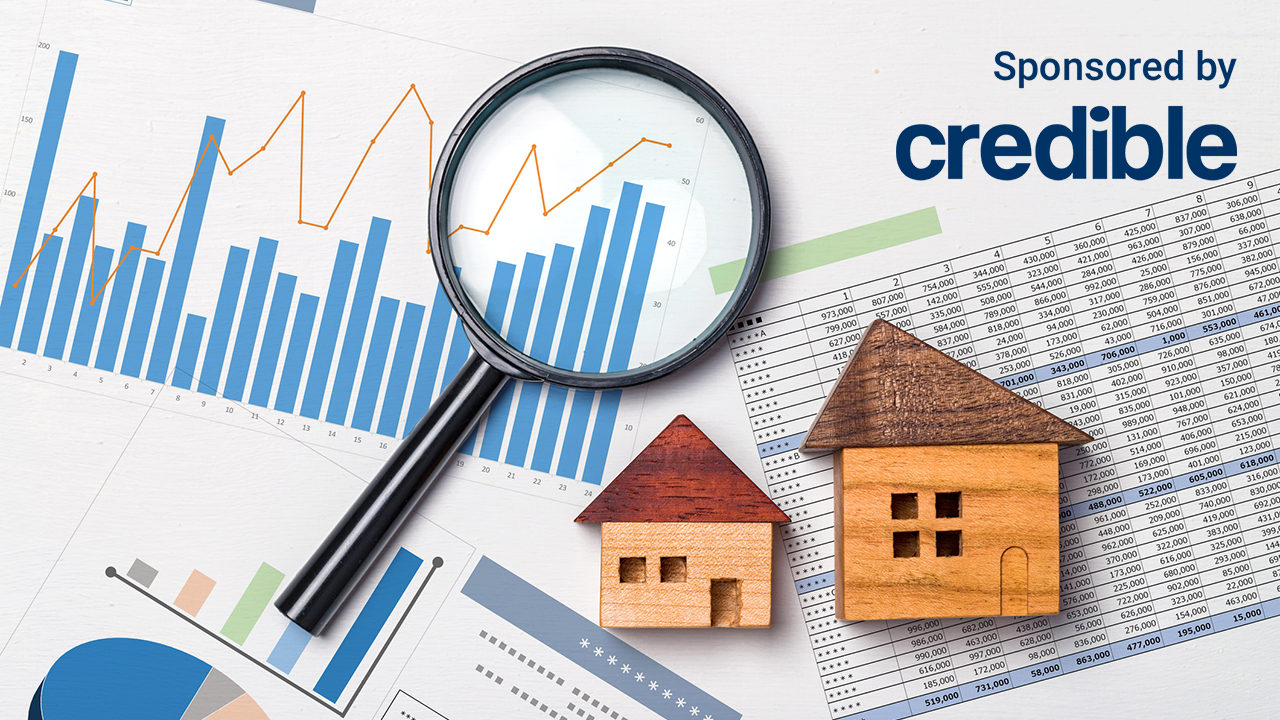 The interest rate on a 30-year fixed-rate mortgage is 8.000% as of November 13, which is 0.125 percentage points higher than Friday. Additionally, the interest rate on a 15-year fixed-rate mortgage is 7.625%, which is unchanged from Friday.
With mortgage rates changing daily, it's a good idea to check today's rate before applying for a loan. It's also important to compare different lenders' current interest rates, terms and fees to ensure you get the best deal.
Rates last updated on November 13, 2023. These rates are based on the assumptions shown here. Actual rates may vary. Credible, a personal finance marketplace, has 5,000 Trustpilot reviews with an average star rating of 4.7 (out of a possible 5.0).
When you take out a mortgage loan to purchase a home, you're borrowing money from a lender. In order for that lender to make a profit and reduce risk to itself, it will charge interest on the principal — that is, the amount you borrowed.
Expressed as a percentage, a mortgage interest rate is essentially the cost of borrowing money. It can vary based on several factors, such as your credit score, debt-to-income ratio (DTI), down payment, loan amount, and repayment term.
After getting a mortgage, you'll typically receive an amortization schedule, which shows your payment schedule over the life of the loan. It also indicates how much of each payment goes toward the principal balance versus the interest.
Near the beginning of the loan term, you'll spend more money on interest and less on the principal balance. As you approach the end of the repayment term, you'll pay more toward the principal and less toward interest.
Your mortgage interest rate can be either fixed or adjustable. With a fixed-rate mortgage, the rate will be consistent for the duration of the loan. With an adjustable-rate mortgage (ARM), the interest rate can fluctuate with the market.
Keep in mind that a mortgage's interest rate is not the same as its annual percentage rate (APR). This is because an APR includes both the interest rate and any other lender fees or charges.
Mortgage rates change frequently — sometimes on a daily basis. Inflation plays a significant role in these fluctuations. Interest rates tend to rise in periods of high inflation, whereas they tend to drop or remain roughly the same in times of low inflation. Other factors, like the economic climate, demand, and inventory can also impact the current average mortgage rates.
To find great mortgage rates, start by using Credible's secured website, which can show you current mortgage rates from multiple lenders without affecting your credit score. You can also use Credible's mortgage calculator to estimate your monthly mortgage payments.
Mortgage lenders typically determine the interest rate on a case-by-case basis. Generally, they reserve the lowest rates for low-risk borrowers — that is, those with a higher credit score, income, and down payment amount. Here are some other personal factors that may determine your mortgage rate:
Other indirect factors that may determine the mortgage rate include:
Along with certain economic and personal factors, the lender you choose can also affect your mortgage rate. Some lenders have higher average mortgage rates than others, regardless of your credit or financial situation. That's why it's important to compare lenders and loan offers.
Here are some of the best ways to compare mortgage rates and ensure you get the best one:
One other way to compare mortgage rates is with a mortgage calculator. Use a calculator to determine your monthly payment amount and the total cost of the loan. Just remember, certain fees like homeowners insurance or taxes might not be included in the calculations.
Here's a simple example of what a 15-year fixed-rate mortgage might look like versus a 30-year fixed-rate mortgage:
If you're thinking about taking out a mortgage, here are some benefits to consider:
And here are some of the biggest downsides of getting a mortgage:
Requirements vary by lender, but here are the typical steps to qualify for a mortgage:
Here are the basic steps to apply for a mortgage, and what you can typically expect during the process:
Refinancing your mortgage lets you trade your current loan for a new one. It does not mean taking out a second loan. You will also still be responsible for making payments on the refinanced loan.
You might want to refinance your mortgage if you:
The refinancing process is similar to the process you follow for the original loan. Here are the basic steps:
Interest rates on mortgages fluctuate all the time, but a rate lock allows you to lock in your current rate for a set amount of time. This ensures you get the rate you want as you complete the homebuying process.
Mortgage points are a type of prepaid interest that you can pay upfront — often as part of your closing costs — for a lower overall interest rate. This can lower your APR and monthly payments. 
Closing costs are the fees you, as the buyer, need to pay before getting a loan. Common fees include attorney fees, home appraisal fees, origination fees, and application fees.
If you're trying to find the right mortgage rate, consider using Credible. You can use Credible's free online tool to easily compare multiple lenders and see prequalified rates in just a few minutes.