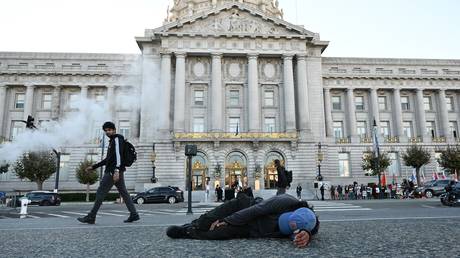 A visit by the Chinese leader has spurred the Democrat-controlled city to deal with endemic homelessness in some areas
An upcoming visit by Chinese President Xi Jinping to San Francisco has finally forced the local Democrat-led government to spruce up the city and act against the problem of endemic homelessness, critics have claimed.
Sarcastic online comments have argued that without Xi's attendance at the Asia-Pacific Economic Cooperation (APEC) leaders' summit this week, local officials would otherwise have remained idle.
Some 30,000 visitors are expected to flock to the Californian city for the week-long international event, which kicked off on Saturday. Authorities have implemented tough security measures in areas allocated for the gathering, including the main venue of the Moscone Convention Center, the Fairmont Hotel housing the delegations, and the Exploratorium museum on the waterfront.
Part of the preparations involved removing homeless encampments as well other indications of their presence. Some critics of President Joe Biden have taken issue with the cleanup, arguing that tent camps have been hidden from the view of foreign dignitaries purely for decoration.
"All it took was a communist to come to town for San Francisco to get their act together?" journalist Collin Rugg of the Trending Politics outlet said on X (formerly Twitter), sharing a video of a security fence erected for the event.
???????????? Xi Jinping hasn't even arrived in San Francisco but has already SOLVED California's homeless problem!

???????????? Patriots love President Xi! pic.twitter.com/1J64egsaHD

— Jackson Hinkle ???????? (@jacksonhinklle) November 13, 2023
Political commentator Jackson Hinkle posted a 'before and after' comparison photo of the same location, remarking: "Patriots love President Xi!"
City officials said they had used existing funds to improve the visuals, and claimed they wanted to keep the streets clean after the APEC guests leave.
Private property owners have also cashed in. A recent "hostile architecture" project, intended to make public places uncomfortable for vagrancy, bought large metal bins usually used to feed livestock and placed them as planters along the streets.
Several planters ???? have been placed on Van Ness at Eddy. This block had previously been home to many encampments @KPIXtv pic.twitter.com/UsaFJMwvJr

— Betty Yu (@bett_yu) November 5, 2023
"Buying planters won't solve homelessness!!!" a note on one of them read, according to local news outlet Beyond Chron.
Chinese media published a number of unsympathetic articles about San Francisco's problems ahead of the summit, with headlines describing it as a "total failure" and "garbage city." The South China Morning Post compared the beautification to a "housework-shy couple who suddenly discover the neighbors are dropping round" and go into a "tidying panic mode."
San Francisco added dozens of additional shelter beds as it uprooted several hotspots of homeless activities ahead of APEC, according to the Daily Mail, but some simply refused to move there.
READ MORE: US invites Russians to San Francisco summit
"It's like they're trying to throw away human beings," a 63-year-old man told the newspaper, after explaining that he fears being separated from his wife in a shelter.
Xi is scheduled to arrive in the US on Tuesday and stay until the APEC event ends on Friday.