Three of the four teams in this group were together in 2018 as well, with Switzerland and Serbia both capable of giving the Seleção a run for first.
With an electrifying attack and an experienced core, Brazil enters the tournament as the team to beat. It would be stunning for a team led by Neymar that has lost only once since the start of 2020 (vs. Argentina in the '21 Copa América final) to not win this group.
The fight for second, which will likely come down to a battle between Switzerland and Serbia, should be far more interesting. The Swiss earned a point in a 1–1 draw with Brazil at the last World Cup and dispatched France in the round of 16 at Euro 2020, topped a qualifying group that featured European champion Italy, and have defeated both Portugal and Spain in UEFA Nations League play this year.
Serbia has not advanced out of the group stage since 1998, when it played as Yugoslavia, and it has scored only two goals in each of the last three World Cups. But the side likes its chances with a forward line that features Juventus star Dušan Vlahović and Fulham's Aleksandar Mitrović.
Cameroon punched its ticket to Qatar with a 124th-minute winner against Algeria in the second leg of their qualifying playoff in March. It's unlikely the Indomitable Lions will muster up any more drama than that in this tournament.
Watch the 2022 World Cup with fuboTV: Start your free trial today!
CHAOS COMPONENT
The team most likely to give Brazil trouble is, well, Brazil. The Seleção can be their own worst enemy. Then there's the pressure that has been mounting in the 20 years since Brazil last won the World Cup. If the side struggles in its opener against Serbia, Brazil will be in a cauldron of pressure before its matchup with Switzerland.
HISTORY LESSON
It'll seem like old times: Brazil, Switzerland and Serbia were all in the same group in Russia in 2018. Brazil and Switzerland drew in the group-stage opener before each defeated Serbia, although the Swiss needed some 90th-minute magic from Xherdan Shaqiri to get through. 
GAME OF THE GROUP
Serbia vs. Switzerland, Dec. 2
Two Swiss players made Albanian nationalist gestures after their goals against
Serbia in 2018, flaring tensions. The rematch could get testy. 
GO DEEPER
Team profiles and squad lists for: Brazil | Cameroon | Serbia | Switzerland
PROJECTED GROUP FINISH
Brazil, Switzerland, Serbia, Cameroon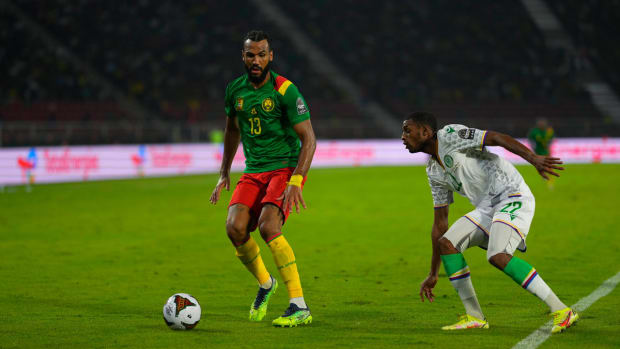 BRAZIL
To win the group (-275) | To win the World Cup (+400)
SWITZERLAND
To win the group (+450) | To win the World Cup (+9000)
SERBIA
To win the group (+550) | To win the World Cup (+6000)
CAMEROON
To win the group (+1400) | To win the World Cup (+30000)