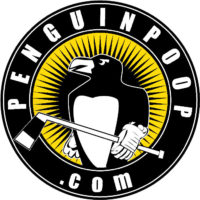 It's getting to be an epidemic. In each of the past three games, the Penguins have yielded a power-play goal to an opposing player planted unchecked in the crease. Making the situation even more onerous, those goals have come on the last three attempted penalty kills. That's right, we're oh-for-three and counting.
It's a big problem. And a big problem calls for a big solution. Say, one who goes 6'5" and weighs 217 pounds.
I'm talking about ex-Pen Erik Gudbranson. The big guy was reported to be on the trading block earlier this season.
The Ottawa native's certainly experienced his share of ups and downs during his 10-year NHL career. This season has marked one of those downs. Skating for a terrible Senators squad, he's presently tied with Vancouver's Quinn Hughes for the worst plus-minus in the league (minus-13).
On the positive side, Erik has registered 37 hits and 29 blocked shots (10th best in the league). And he recently had a spirited go with Edmonton heavy Zack Kassian, showing he can still chuck 'em when push comes to shove.
Although regarded as somewhat of a disappointment given his draft stature (a former No.
Continue reading Penguins Update: Call Me Crazy But… at Pittsburgh Penguins - PenguinPoop Blog.