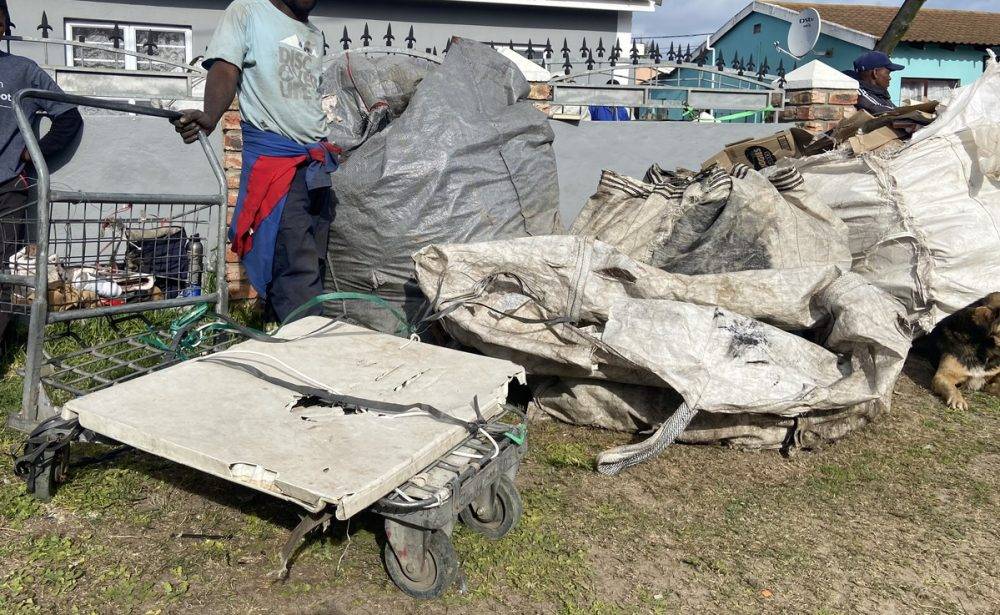 "I'm proud of myself because I'm a very hardworking lady," said Mnike, who has worked at a recyclable materials buy-back centre in Gqeberha as a sorter for 13 years. 
She is one of 21 participants interviewed for a project on informal recycling in the city. Informal recyclers are often negatively perceived by society and the project sought to give them a voice to explain how they perceive themselves and their work.
Most waste in South Africa is sent to landfill sites. The informal recycling sector recovers about 80% to 90% of paper and packaging. Diverting these recyclables from landfills saves municipalities R300 million to R750 million annually.
Despite their contribution and resourcefulness, informal recyclers remain poor and marginalised. With the unemployment rate hovering at about 33%, people usually start recycling informally as a result of poverty and because this type of work is easily accessible.
Informal recyclers are associated with crime, drug abuse, and lawlessness, a view that is perpetuated by exclusionary waste management policies and the way they are treated by South Africans they cross paths with.
But how do informal recyclers see themselves? Our research project provided them with a platform to speak back at stereotypes that perpetuate the idea that their lives and labour are as disposable as the materials they work with.
The interviews with informal recyclers were at six locations, three of which are buy-back centres, one a recycling swop shop, one an informal mobile buyer and one a scrap metal buy-back centre. The participants were 22 to 72 years old and did work at various stages of the recycling value chain. Eight were waste reclaimers, eight managers at buy-back centres, and five are sorters employed by buy-back centres. n the context of this research "informal recyclers" is an all-encompassing term to refer to all three of these groups who work in the informal recycling industry.
One of our objectives was to capture how informal recyclers understood their job and societal role. It became clear that the participants are hardworking individuals with a strong work ethic. They follow a more or less fixed schedule usually linked to waste collection days in the neighbourhoods where they work or days when buyers come to landfill sites. The participants expressed five positive societal roles that they see themselves as fulfilling.
'I am cleaning the environment'
The most frequent response we received was related to cleaning the environment. Participants were aware of the relation between recycling, waste management, environmental concerns and health problems related to waste. They were equally aware how their job alleviates these issues. For example, Samuel said that he saw himself as "part of the cleaning process" and Sphokazi said "it's a good thing that we're cleaning". Solly added that "if our environment is clean, it's a better smell, it's better for breathing, it's a better environment. For everyone. So, a safer, cleaner place for us, it's a better South Africa."
Mike highlighted the importance of their job because "it was very dirty" and "now it's very clean, now [my neighbours] are happy". This shows that even though the initial motivation to recycle was to make money, the participants were aware of the positive environmental effects of their job.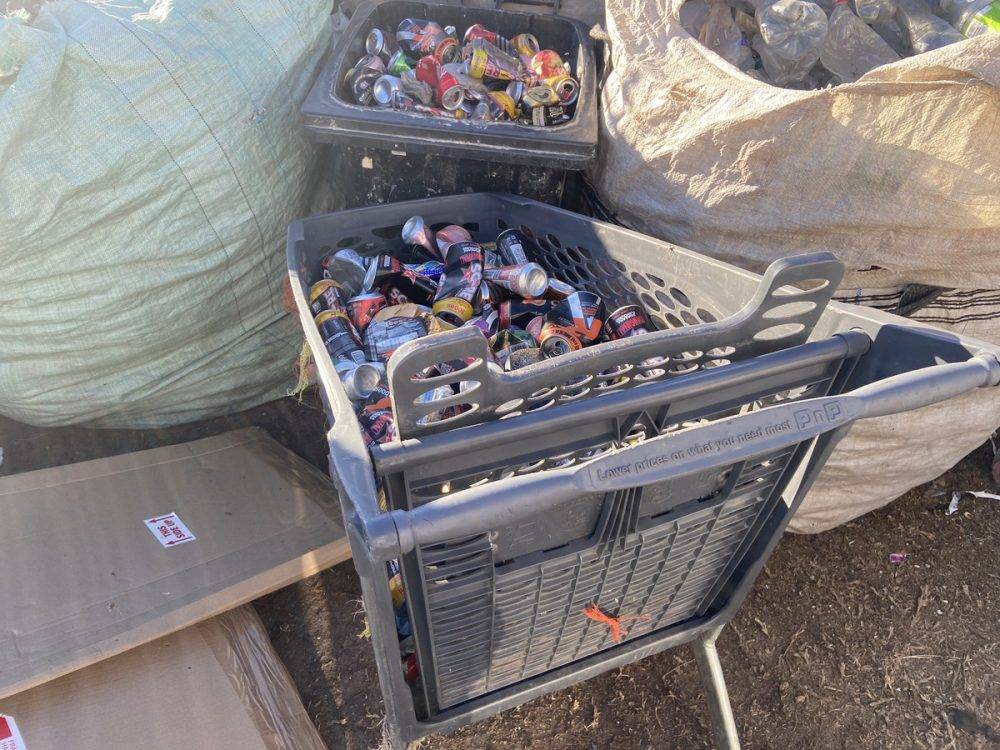 'I am a provider'
Participants also highlighted their roles as providers. On average, the participants reported having more than three people directly dependent on their contingent income, and providing food, educational opportunities and shelter for their dependents commonly came up during the interviews.
Neliswa, an unmarried 72-year-old buy-back centre buyer and craftswoman, has eight dependents consisting of her children and grandchildren. This was the highest number of dependents recorded. Siyabulela said he is proud that he is "going to sell something. I'm going to get food to eat at home, give to my family." He added, "And I like my job; love my job too much." Doug said that "some people are throwing money away [when they are throwing recyclables away], this is money that I collect […] to put food on the table." Discussing taking care of relatives and friends turned out to be a prominent part of the interviews.
'I am an informal environmental educator'
A third common response relating to the participants' perceptions of their societal role is the position of informal environmental educator. At least six participants spoke about themselves as bearers of knowledge that must be passed on to others.
Some, such as Nozizwe and Neliswa, presented educational workshops aimed at equipping people with basic skills about sorting and organising recycling. But most participants simply tried to educate other people through their actions and informal conversations. Having worked in the industry for a long time, Mnike said that "you're like a teacher" responsible for educating new colleagues.
In Samuel's opinion people "first have to see you prosper [by recycling informally], then they'll open their eyes". For many participants, educating others seemed to bring them a sense of purpose.
'I am a role model'
Tying in with the educator role, was the idea of the role model, particularly among older participants. Vukile captured this role when he explained that, for him, "it's not about money. "In future you want to be someone who will teach the … the generation that are coming at the back. Always, you want to be a role model. So, you must be."
Participants often expressed self-confidence about their position as someone who has to set an example for others in society and that the knowledge that they've acquired and the person they've become is worthy of being shared.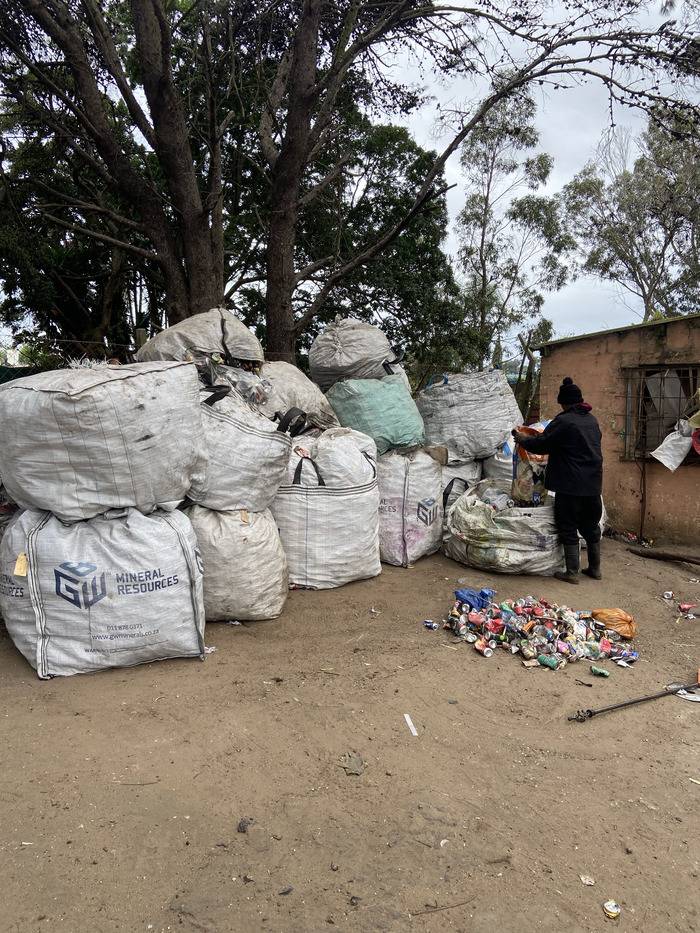 'I aim to uplift my community'
The participants, in particular buy-back centre managers and employees, also expressed their concern for the well-being of their community. Many explained that they received very little support from the government and that this was a pertinent driver for them to assume the role of active members in the betterment of their community.
The oldest buy-back centre we visited was established in Motherwell 1998 and the most recent opened in Walmer township in January 2023. Both shared a commitment to the well-being and upliftment of their community.
The participants' responses and understanding of their various roles challenge the idea that the informal sector consists of workers with low levels of skills and little transferable knowledge. Informal recyclers carry a sense of responsibility, take great care to provide for themselves and for others, and understand the economic and environmental benefits of recycling.
Neliswa's response summarised many of the participants' views on their role: "It is to work and educate people about recycling as I contribute towards keeping the environment clean, thus improving people's lives".
It is essential that informal recyclers are recognised for the invaluable role they play in recycling in South Africa. Without them, recycling would be non-existent. Beyond their vital contribution to waste management, they also express the capacity to focus on the positive aspects of their work and regularly take the opportunity to educate people, despite the difficult circumstances they face on a daily basis.
By acknowledging their positive effect on the environment and their social circles, we can begin to change the prevailing image of informal recyclers. To bring about real change and create more inclusive solutions, we must shift our perspective to encompass the positive aspects of their work, allowing us to appreciate the holistic view of their contributions.
This article is based on Dr Olivia Loots's post-doctoral research project at the Centre for the Advancement of Non-Racialism and Democracy at Nelson Mandela University. It was conducted in collaboration with Palisa Ntsala and the Sustainable Seas Trust. It was approved by the Humanities Ethics Committee at Nelson Mandela University and all pseudonyms were selected by the participants.
The post How informal recyclers view their work appeared first on The Mail & Guardian.