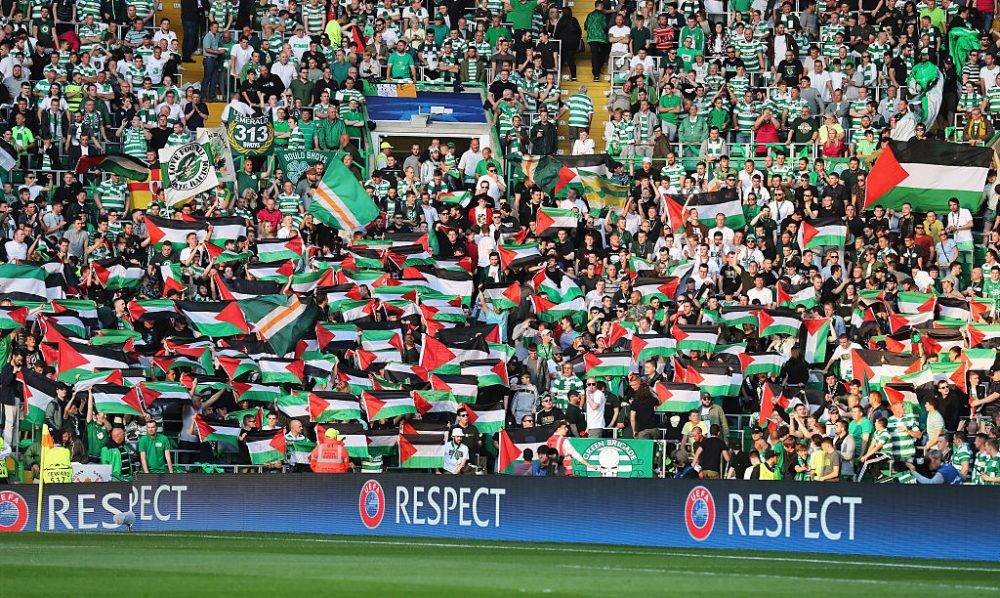 As Palestinian authorities report that more than 11 000 people have lost their lives in Gaza since about 1 400 Israelis are reported to have lost theirs on 7 October, the world watches on in real time. Expressions of support and condemnation for both sides of the conflict are becoming increasingly visible and volatile. Why are Palestinian flags being held aloft by Glasgow Celtic supporters in Scottish football stadiums more than 4 000km away from the Gaza Strip?
Hours after the attacks on 7 October, supporters of the "Green Brigade" hoisted large banners in the North Curve section of Parkhead Stadium proclaiming "Victory to the Resistance" and "Free Palestine". Hundreds of laminated Palestinian flags were distributed outside stadiums and held high during the games. Since then, despite condemnation by Celtic officials and 250 season tickets being suspended under pressure from Uefa on the grounds of opposition to discrimination, support for Palestine would appear to have increased among this segment of Celtic supporters as the death toll in Gaza continues to rise.
There is nothing new in football teams or their fans showing support for political or religious causes. FC Barcelona in Spain, for example, is openly associated with the movement for Catalonian independence. MTK Budapest in Hungary and Red Star Belgrade in Serbia are likewise associated with political issues.
As far back as the 1850s, when mostly Christians were fleeing the Crimean War in present day Middle East, many Arabs relocated to Chile. With between 300 000 to half a million Palestinian descendants, the South American country now reportedly hosts the largest Palestinian population outside of the Arab world.
They have found expression through soccer. Deportivo Palestino (founded in 1920 and who play in the colours of red, green, black and white) recently had their images beamed around the world when they entered the playing field in Santiago with keffiyeh scarves draped around their neck in solidarity with their distant relatives on the other side of the world.
Also fleeing Russian expansion during the 1880s, many Eastern European Jews relocated to north-east London in the United Kingdom. With the founding of Tottenham Hotspur in that area at about the same time, the club attracted a large Jewish following.
Churned through the mincer of working-class men on English soccer terraces, supporters of opposing teams over time began chanting slurs such as "Does your rabbi know you're here?", occasionally imitating the hissing sound of escaping gas. In response, many Spurs fans embraced this anti-Semitism and began flying the Star of David, proudly referring to themselves — Jewish or not — as The Yids.
But football supporters in Glasgow are far from Gaza and do not ostensibly have an axe to grind in the current conflict. As is usually the case, scratching the surface of socio-political history starts to reveal the dynamics behind seemingly unconnected patterns of human behaviour.
Glasgow Celtic was founded in 1887 by Catholic immigrants in Scotland, many of whom had fled the Potato Famine in the 1850s, which claimed an estimated one million lives in Ireland. The club's initial purpose was to raise humanitarian funds for poor Irish Catholics in Glasgow and Celtic rapidly gained a large Irish Republican support. Glasgow Rangers had been established slightly earlier in 1872. Their equally fanatical support base came predominantly from Scottish and Irish Protestant Unionists, sympathetic to the British monarchy, its empire and the British government of the time. Many Irish believed the British could have intervened with more clout to help prevent the devastating famine from which they had fled.
While the origins of possibly the most bitterly contested soccer derby in the world are to be found, at least partially, in the historical geopolitics of food security, they also give us a glimpse into why Palestinian flags have been hoisted by the Green Brigade at Scottish stadiums since 7 October.
The Brigade were formed in 2006 with the intention of improving the atmosphere at Celtic games. It has clear political origins and evolved into a group giving an ostentatious voice to Irish nationalism and support for various other political causes.
Their solidarity with the Palestinian people predates the current conflict and goes far beyond the recent hoisting flags in stadiums. Representatives of the group have visited Nablus refugee camp in the West Bank many times in the past decade. Over a virtual coffee, a member of the Green Brigade explained: "I have been to Palestine three times … there is an emotion and reality about the place that strikes you and never leaves."
When asked about links between Celtic supporters and Gaza, he replied: "The Irish and Palestinian causes share many similarities and as a result there is a connection and solidarity between both peoples and movements.
"[They] broke down in tears as they spoke about the torture and degradation families faced from soldiers … a father murdered in front of his family … a family made to leave their home but leave one child behind. It was heart-breaking."
At Aida refugee camp in Bethlehem in 2019, the Green Brigade established a football club, Aida Celtic. Described as "a football academy", it has produced a team ready to compete in the professional Palestinian league.
Our conversation concluded on a sombre note: "The most impressive thing about Palestinians is their spirit. Despite the odds, they continue to live. We want Aida Celtic to have that same spirit: to continue to grow and be successful; to be a beacon of pride for Palestinians; and be a symbol of resistance and solidarity."
It is this vein between Glasgow and Gaza that explains the Palestinian flags in Scottish stadiums and, like most things, a little bit of history helps us to understand the complex dynamics of contemporary human behaviour.
Fraser McNeill is an associate professor of anthropology at the University of Pretoria.
The post Gaza in Glasgow: Why Palestinian flags are filling Scottish football stadiums appeared first on The Mail & Guardian.