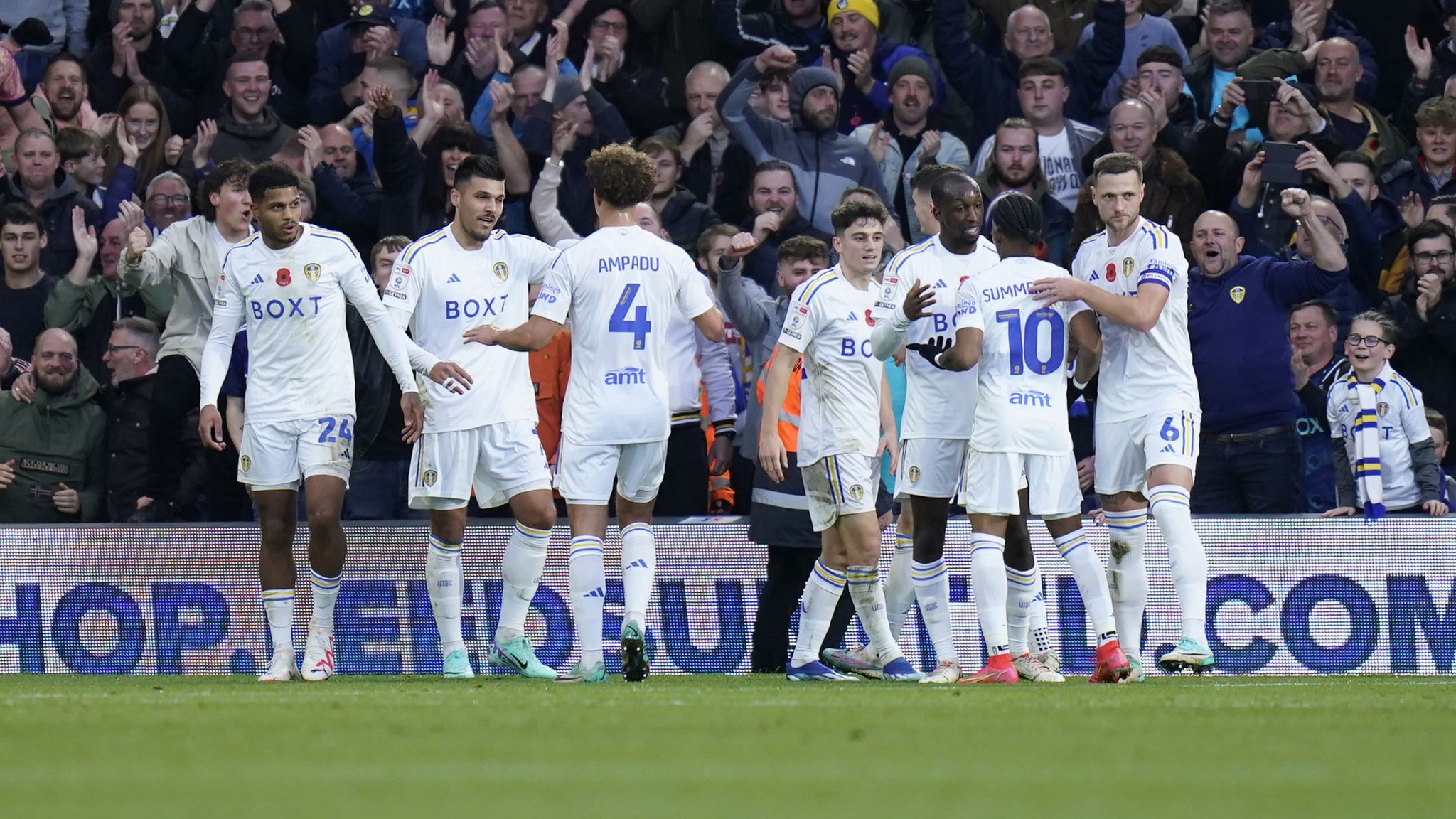 Good Morning. It's Monday 13th November, and here are the latest headlines from Elland Road...
Leeds keep pressure up on top two
Leeds maintained their unbeaten start to their campaign (at Elland Road), defeating a spirited Plymouth Argyle side, and keeping the pressure up on the top two.
Leeds were two-up within half an hour. Dan James opened proceedings on 21 minutes with a thunderous strike on the edge of the area, after the ball spun kindly for him, following Kamara's timely challenge on Kesler-Hayden in the Argyle penalty box. Six minutes later Piroe doubled Leeds advantage, after being put through on goal by Summerville, who had just had an effort disallowed a few minutes previously.
Leeds should have been out of sight by half-time, but squandered chance after chance to put the game to bed.
The Whites continued to be dominant after the break, but were unable to add to their tally. With six minutes of the game remaining, the visitors got one back, leading to a few nervy moments in the final moments.
In truth, Leeds made heavy weather of it, but it's hard to argue when you're sitting at the top of the form guide with five wins from six, going into the International break. Plymouth fans will look back on the game, claiming they should have had a penalty, but when you're flying high, decisions just happen to go your way.
Is Harrison worth £30m
Veteran football journalist Phil Brown believes Everton don't have the finances to make Jack Harrison's move permanent, though much will depend on the outcome of their Financial Fair Play hearing last month. The 26yo's return from injury has coincided with a rapid rise up the table for Sean Dyche's men.He was instrumental at the weekend too, helping his Merseyside teammates to a 3-2 win at Selhurst Park.
Harrison's contract runs to the Summer of 2028, so there's little chance of Everton signing him on the cheap. The figure being banded about is £30m, but in truth is that enough, especially with the top six dish out each Summer.
It wouldn't surprise me if Leeds were to ask for that (£30m). I suspect that in the current market, they do believe he's worth that.

But the problem is that he probably isn't worth £30m to Everton because they don't have £30m to spend on one player right now. Everything will depend on what happens with the takeover, the finances, whether Everton are punished, whether they stay in the Premier League.

Everything is up in the air at the moment and it's very hard to predict what kind of budget Everton will have. So I think by next summer, things will become clearer but I can't see, in the current situation, Everton spending £30m on Jack Harrison.
Schumacher praises Farke's magnanimity
Pilgrim's Manager Steven Schumacher revealed how Daniel Farke praised the Plymouth players after the 2-1 defeat at Elland Road, but rued his sides luck at not being awarded a first half penalty.
When Daniel comes [to me] at the end of the game and says you are a top team and you pushed us all the way, right now that is okay for us but we want to try and get results at these places as well.

We come to a place like this and it's a brilliant experience. The atmosphere at the start of the game was one of the best I have ever heard so that is what it is all about." "We gave the ball away twice in two poor areas and against a top team with quality players, we got punished.

The second half we were better. We got after the game and we grew into it. I'm really pleased with the effort overall against a top team, we came here and competed which is what we wanted to do but unfortunately it has gone against us. The whole performance, I don't think there was too much wrong with it.

Another big call has gone against us and that seems to happen every week. When he gets into the box, you could hear the contact when the two lads' boots collided. There was no contact on the ball from their player so I can't understand again how it isn't a foul.

If we go in at 2-1 at half-time, it gives us the belief and confidence in that second half. As you can see, when we have got that, we are a decent team so once again, another tough decision away from home has gone against us.
---