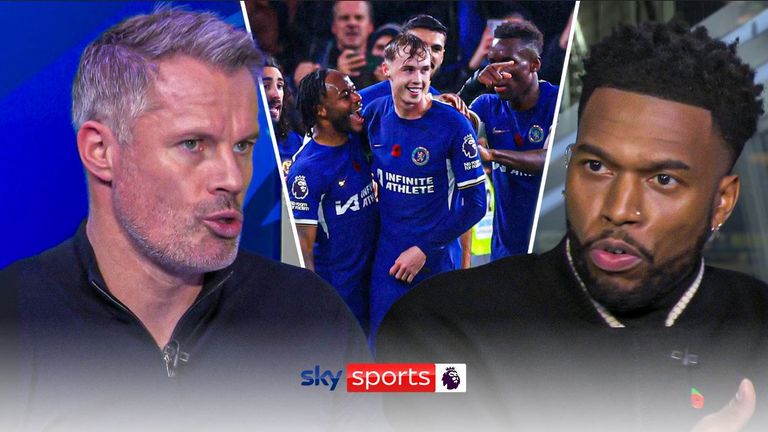 Chelsea and Manchester City shared an incredible eight-goal thriller at Stamford Bridge as Cole Palmer scored a stoppage-time equaliser against his old club to make it 4-4; Jamie Carragher: "He's a major part now in this Chelsea team and he almost feels like the main man"
Jamie Carragher says Cole Palmer feels like the main man at Chelsea following his stoppage-time equaliser against his former club Man City
Jamie Carragher says he "admires" Cole Palmer for swapping Manchester City for Chelsea and believes he is becoming the "main man" at Stamford Bridge.
The two clubs shared an incredible eight-goal thriller at Stamford Bridge as Palmer scored a stoppage-time equaliser against his old club to make it 4-4.
Palmer joined Chelsea from City for £40m in September and had the final word in the fifth minute of added time, stroking home a spot-kick past Ederson after Ruben Dias had felled substitute Armando Broja.
Rodri thought he had won it for City when his 86th-minute drive took a wicked deflection, but Palmer kept his nerve to give Chelsea a deserved share of the spoils.
Poch: Result makes us believe | Carra: He's the best thing about Chelsea
Chelsea 4-4 Man City – Report and highlights
How the teams lined up | Match stats
Speaking to Sky Sports after a breathless contest, Carragher said: "What stands out for me is that I admire him for leaving Manchester City. I get frustrated by players who are at big football clubs that don't really play.
"They'll say they've won the Champions League, the league three times, they've done this and they've done that. But we all know they're a squad player.
Image: Palmer was the star performer for Chelsea
"They come off the bench every now and again. I admire the fact he's moved to Chelsea because he'll be feeling a lot better in these four to six weeks than he probably ever has done at Manchester City, no matter what medal he's picked up.
"We all know as players, in your heart of hearts, you know when you deserve a medal – when you've been a big part of something.
"When you're on the outside looking in, it doesn't feel great. So he'll feel an awful lot better, even if he's at Chelsea the next two or three years and he picks up just a Carabao Cup or one FA Cup.
Image: Palmer showed Man City his qualities at the Bridge
"He'll feel his body of work here, if he continues the way he's going, is a lot better than what he's done at Manchester City and the medals he might have won. It's nonsense to me, to be honest.
"Everyone plays a part, but you all know when you've played a major part in a team's success. He's a major part now in this Chelsea team and he almost feels like the main man.
"He's part of the group of players I feel who are making a late surge for the tournament next summer for England. The way he's playing right now, you feel there's a great chance he could end up in that Euros squad."
FREE TO WATCH: Highlights of the Premier League clash between Chelsea and Manchester City
Pep Guardiola's champions led three times at Stamford Bridge only to be pegged back on each occasion, with former City man Cole Palmer holding his nerve to grab his new team a point with a stoppage-time penalty.
Premier League table | Watch free Premier League highlights
Get Sky Sports | Stream the biggest moments on NOW
The Blues on Monday evening ended Tottenham's unbeaten start to the Premier League season with an extraordinary 4-1 win over their nine-man London rivals.
This was another classic – and Palmer more than played his part, leaving former Manchester City defender Micah Richards admitting he is "devastated" the player is no longer at the Etihad Stadium.
Daniel Sturridge on Cole Palmer penalty
"For those two minutes and 41 seconds it was like he was in an igloo. He was just cool, calm and collected.
"He stayed away from the vibe and the trouble. He tried to compose himself and keep himself on song.
"When he ran up and took that penalty, you could see how much conviction there was. He just went for it and put it where he wanted it. It was so composed."
Palmer signed a seven-year contract with an option of a further year back in September having started just three Premier League games for City.
Daniel Sturridge believes the 21-year-old has been trying to prove a point with his performances.
"He's a great young player," Sturridge told Sky Sports. "He's coming through and doing the things that I think he expects of himself.
"When he moved to Chelsea he was searching for an opportunity. At Manchester City he felt like he was good enough to be there and play, but Pep Guardiola has so many options within that football club that they let him go and have a chance somewhere else.
Image: Palmer's goal was the latest penalty scored by Chelsea in the Premier League since November 2013
"Chelsea are a club at a high level and they have believed in him. Now he's got the opportunity to go and play, work hard and express himself.
"Sometimes it not about proving others wrong, it's about proving yourself right. That's what he's trying to do now. He's trying to prove that he's the man, that he can do it and show people what he is all about."
Meanwhile, Manchester City boss Guardiola acknowledged the quality of former City pair Palmer and Raheem Sterling.
He said on Sky Sports: "They are really good players. They helped us a lot to win what we won. They are really part of our success but, at the end, they both wanted more and they decided to come here."
Carragher lauds Mauricio Pochettino's results in the big games after Chelsea drew 4-4 with champions Manchester City
Palmer: I've spoiled the day for my friends!
Spot-kick hero Palmer said he had spoiled the day of many friends with the stoppage-time equaliser against his former club.
Asked if he had upset friends in Manchester, Palmer told Sky Sports: "Yeah, probably – I know many City fans. But that's the game, isn't it?
"Very, very strange, the first time I've played against City since I've left, but I've got the utmost respect for the club that I spent 15 years at. It was nice to see some friends. Unlucky not to get the win, but it was another great game.
"It was a long time waiting [for the penalty] but I felt confident. I've had a few penalties. Just stayed calm, keep focused. I don't work on them, but I trust on my natural abilities and thankfully it went in."
Pochettino: Palmer causes confusion
Pochettino says Chelsea's 4-4 draw with Manchester City showed why many consider the Premier League to be the best league in the world
Pochettino was delighted with Palmer's impact. Prior to the game, the Chelsea boss had wanted to play down the hype surrounding him, telling Sky Sports: "It's too soon to talk to much. He's still young but he's a very talented player.
"He has to mature and have more experience but his profile is very good and he has the capacity to be our playmaker with the way he links the team.
"He's an important player for us but we can't talk to much. We need to give him time to learn and to improve. In a few years, let's then see if he's the big player that we want."
But afterwards, Pochettino added: "He's a player that understands the game and use the half positions – he plays very in between the lines to cause confusion to the opponent. He always gives options for us to play and to find the free man. He is a playmaker that links all the team-mates."
Sourse: skysports.com