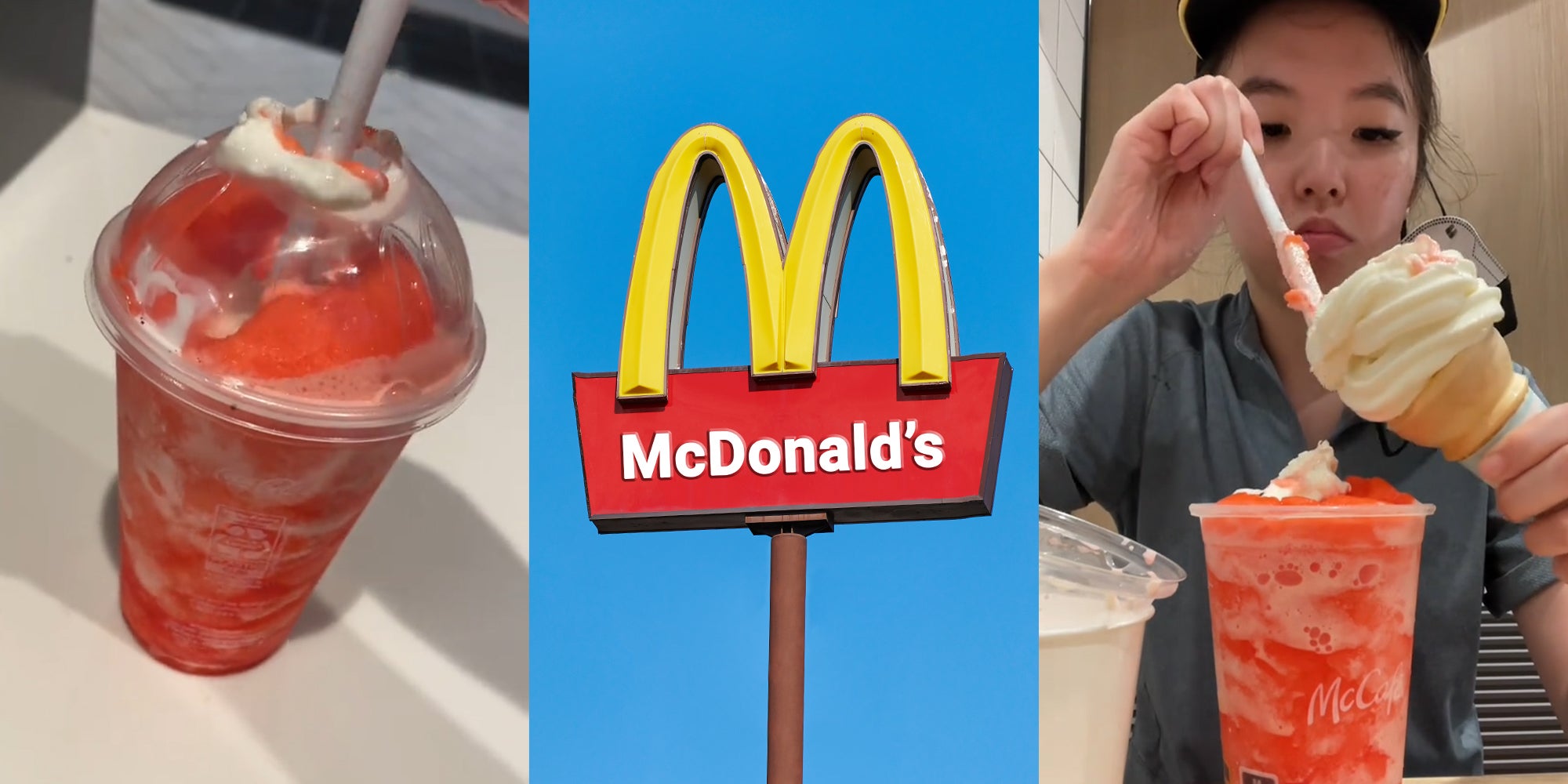 Kai (@kaisbubbletea) has made a pretty successful TikTok career for herself over a span of multiple accounts posting about a variety of different topics, but several of her viral uploads pertain to her time working at McDonald's.
In one of her Mickey D's-themed posts, she shows off how to make a "McFloat" after several commenters were curious as to the cherry/cream slushie beverage she was enjoying during one of her breaks. She frequently records herself talking with co-workers and narrating her work day.
In the video, Kai posts a screenshot of a previous clip featuring a cherry and ice cream slushie concoction as a text overlay in the clip reads, "Watch as a doordasher flirts at me without me realizing." However, after viewers inquired about what Kai is drinking in the clip, she shared an updated video of her "fav McDrink combo."
"OK, so while I'm not allowed to make this drink for free anymore because our management has gotten so much more strict, I decided to buy it so I could show you how to make it one more time," Kai says in the video.
Kai's video then transitions to her holding the slushie cup in front of the slushie machine as she calls out her "14-year-old co-worker" for refusing to help her film the video. She persists, however, with one hand, filling the cup up with some cherry Fanta slushie.
"Normally I don't put the top on first cause I still have to put the ice cream in but I forgot and I was in a rush because I'm not supposed to be f*cking doing this," she says, still struggling. "But yeah and then I just add the ice cream oh my God this is just, ugh..."
Kai then records herself walking to the ice cream machine where she plops a dollop of ice cream into the cup. She continues to lambast her coworker for opting to just watch her struggle to record the video and prepare the beverage with one hand instead of recording her doing it.
The next step is to mix the ice cream up with the slushie, which she demonstrates herself doing on camera in the next part of the video. She then records herself with her beverage that she paid for, and the free dessert she gets for being an on-shift employee, which is a vanilla ice cream cone.
"Essentially it's just the cherry Fanta slushie with some ice cream," she says, scooping some of the ice cream from her cone into the drink. "And then you just mix it around...it's really good."
"I also like to do it with the blue raspberry one too," she adds before the video cuts out.
While this concoction isn't an official offering from McDonald's but rather a custom concoction conjured up by an employee (kind of like these "McChurros"), there are other fast food chains that have made cream slushies a part of their menu. Sonic is one example, as one commenter pointed out. "Sonic does this it's called a cream slush. 3/4 slush and the rest ice cream and blend it. It's really good my favorite is strawberry," they wrote.
Another person said that they would want to order this at McDonald's but feel a little scared to do so as they wouldn't want their request to be denied by staff. "Lowkey I would wanna try it but I would be like scared to order it cause what if they say no or look at me crazy," they shared.
Kai said that while employees won't make it for you, customers are more than welcome to order an ice cream cone and a slushie and mix it up for themselves. "You can't order it but you can get the slushy and ice cream separately," she wrote.
Someone else quipped that while the beverage looks good, because of a notoriously recurring McDonald's equipment issue they will more than likely probably never get to try one for themselves. "Thats sad we will never know how it tastes because yall ice cream machine never works," the viewer joked.
A couple of Australian TikTokers mentioned that this request is honored in Mickey D's locations down under and they even go by a strange moniker. "In Australia those are called spiders or something like that- you basically ask for a coke spider or a raspberry spider etc," one person said.
Someone else chimed in, "We call that a spider."
Other outlets have written about the McSpider, which has been described as a "frozen coke topped with that iconic Macca's soft serve," so it seems that the legends are true. Until you're on the wondrous island where Cassowaries roam, you'll have to make it yourself, it seems.
The Daily Dot has reached out to Kai via Instagram direct message and McDonald's via email for further comment.
Sign up to receive the Daily Dot's Internet Insider newsletter for urgent news from the frontline of online.
The post 'So like a McFloat?': McDonald's worker shares Cherry Fanta slushie ice cream hack appeared first on The Daily Dot.