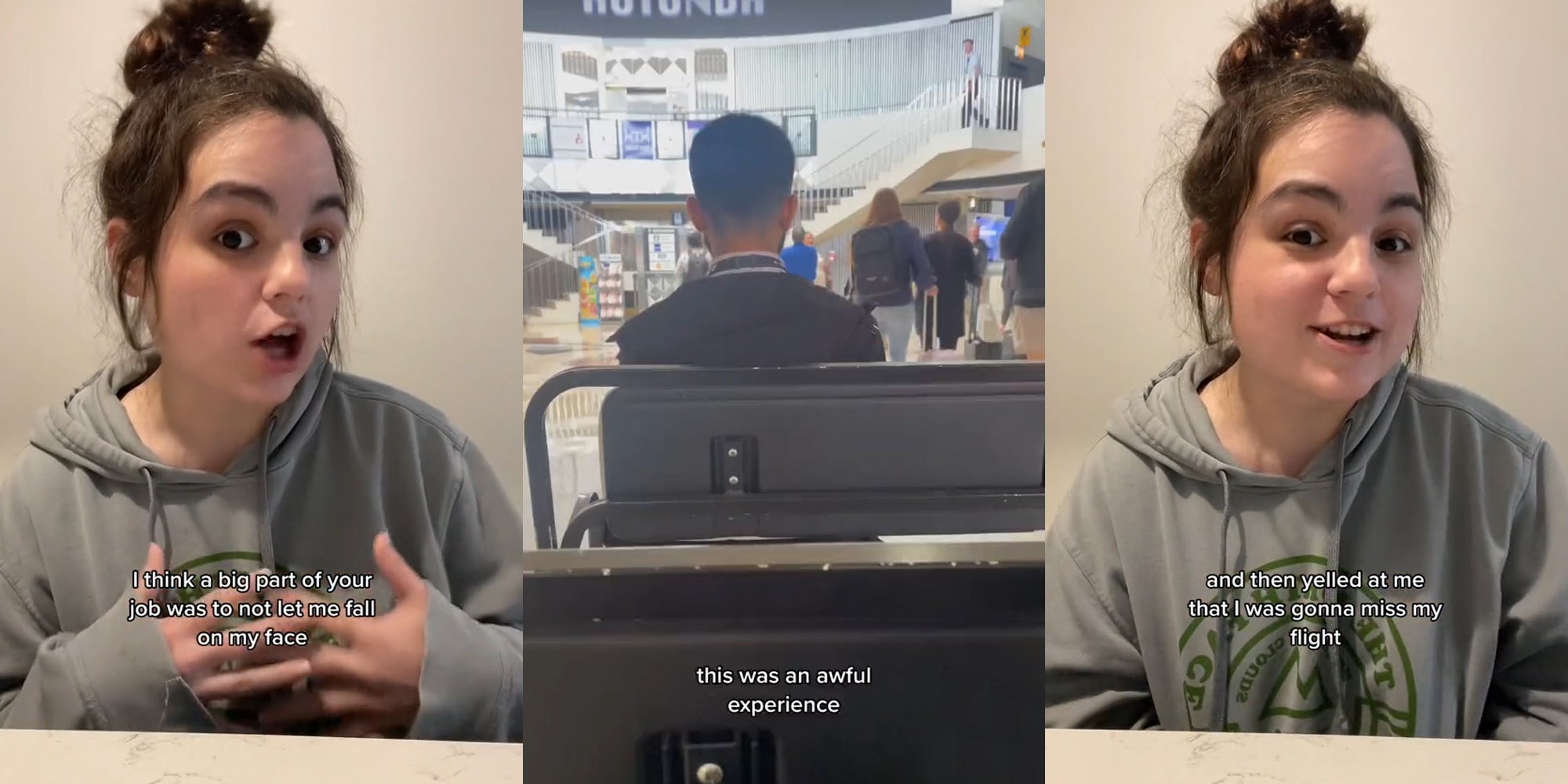 A TikToker who requires a wheelchair is calling on the Chicago O'Hare airport to "do better" after she had a nightmare experience.
In a viral video that had more than 510,000 views by Wednesday, Jess (@whatthejess) explained that the employee tasked with accommodating her mobility issues let her fall on her face and yelled at her in front of others.
Jess said the incident took place during a layover at the Chicago airport.
She explained that she set up mobility accommodations for her flights ahead of time. "That means that on each of my flights, there was a designated person to help me push me in my wheelchair and make sure that I made it safely around the airport," she explained.
While Jess described the employees who helped her in Albany, New York, and Minnesota as "so incredible," the opposite could be said for those in Chicago.
Jess gave a detailed recount of her travel nightmare, which all started the moment the plane landed. First, she was told by the flight crew that she would be the last one off the plane.
While she was fine with this, she did find it odd that she was still waiting even after all the other passengers had left. She was then told that they were going to grab her wheelchair.
But then the employee assigned to help her to her next flight came and asked if she could walk a few steps.
What he really meant, though, was if she could walk up the long ramp that goes from the plane to the terminal. When she told the man she couldn't do it without medical aid, he told her to "try."
"So I start walking and fall and hit my fucking face because I pass out," she recalled, adding that this happened in front of an audience of people lined up on the ramp.
It was at this point that the employee finally went and grabbed her wheelchair.
"A little fucking late, buddy," Jess recalled. Since they were cutting it close for her next flight, the man pushed her wheelchair through the airport at an extremely fast speed.
When she told him to slow down or else she might pass out again, he reportedly snapped. "He starts yelling at me that if I want to miss my fucking flight then I can, blah blah blah blah blah."
She said he moved just as fast when he drove her in one of the airport cars. This led him to beep at people to get out of the way and almost run people over.
When they got to the gate, the employee there had an equally abrasive bedside manner. Jess said that she, too, moved her wheelchair at a dizzying speed.
When she told the lady that she might throw up, they started yelling at her and saying that she was going to miss her flight.
"Like I set up accommodations for a fucking reason so I think a big part of your job was to not let me fall on my face and then you let me do that and then yelled at me that I was gonna miss my flight. Thanks," she said while showing the camera a thumbs up.
Jess ended her video with a strong warning to other passengers with mobility issues. "I would definitely not recommend the Chicago fucking airport, especially that man." 
When reached for comment, O'Hare International Airport directed the Daily Dot to contact the airline. It's unclear what airline Jess used on her trip.
"O'Hare International Airport values providing many resources to make the airport accessible to passengers with disabilities," the statement said. "By federal law, all wheelchair services are provided by a passenger's airline, and inquiries related to specific incidents are best addressed by the airline involved."
She believes that the employees at the airport need to be better trained to accommodate passengers with disabilities.
In the comments, people were absolutely shocked at the treatment Jess received.
"Why do people apply and take jobs that are 'help people' roles if they have no desire to help people. I'm so sad this happened to you and is common," one user commented. 
"I don't even understand why they would even start off by not bring the wheelchair all the way to the bottom of the ramp," another added.
A third wondered if the airline treated her this way because they didn't believe that she actually needed the accommodations.
Other viewers with mobility issues also took the time to share their own travel horror stories.
"The guy who got me in the wheelchair at ORD tried to take me through the revolving door and got me stuck in it LMAO," this woman shared.
"Lol - that's if the wheelchair ever shows up," another added. "TSA tried to get me to walk through security after I repeatedly told them no CANT WALK lol."
This led people to comment that airports in general aren't very accommodating to people with disabilities.
"Unfortunately the wheelchair situation at all airports is horrible!" this woman wrote. "My mom flies with assistance too and they are never at the gate in time!"
The Daily Dot reached out to Jess via TikTok. 
Sign up to receive the Daily Dot's Internet Insider newsletter for urgent news from the frontline of online.
The post 'I think a big part of your job was to not let me fall on my face': Passenger who requires wheelchair says airport employee forced her to walk, yelled at her appeared first on The Daily Dot.