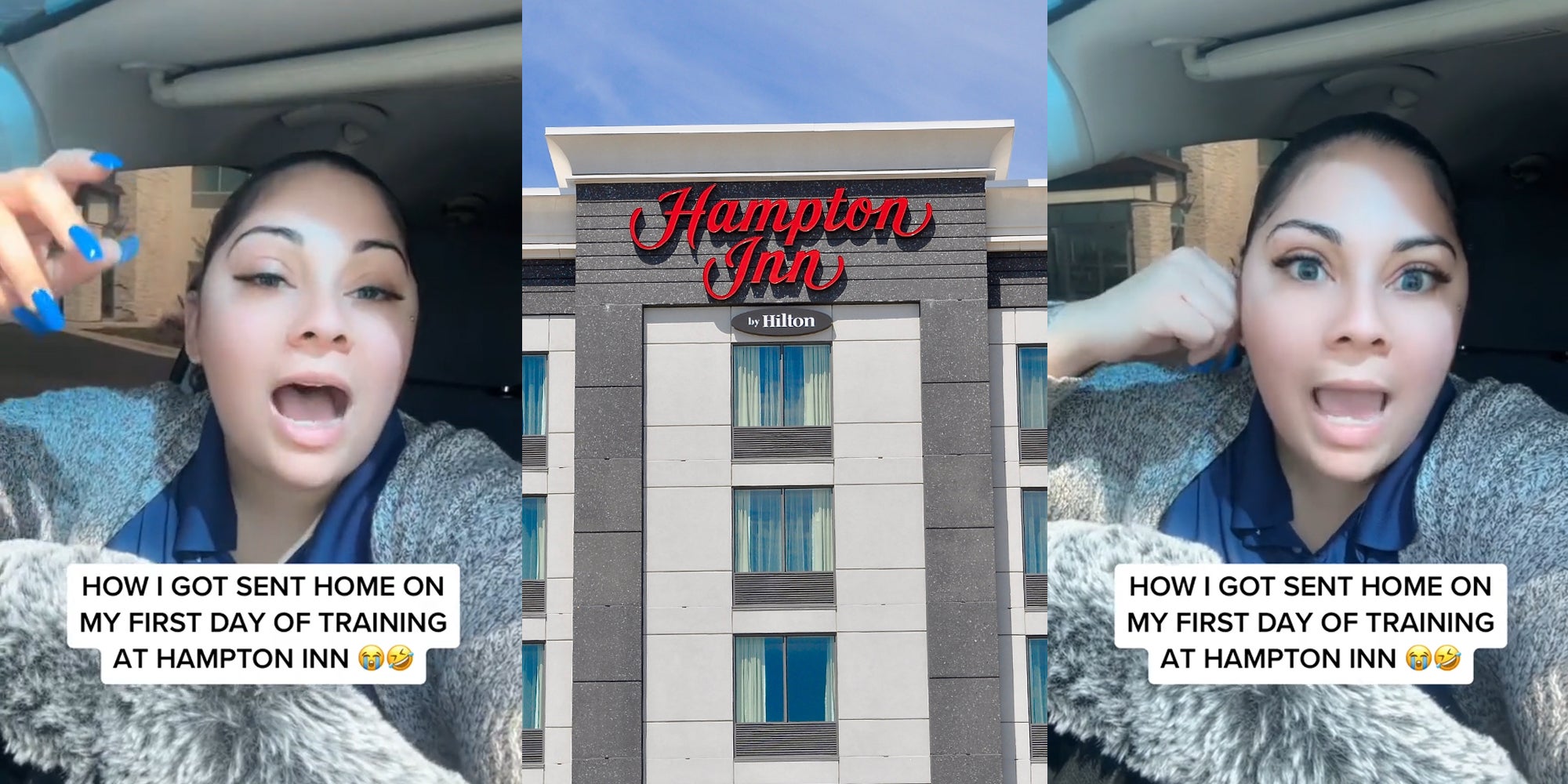 A woman on TikTok claims that Hampton Inn hired her as a front desk worker but sent her home on the first day of training.
According to user @_sentfromheaven_ on TikTok, the Hampton Inn in Bourbonnais, Illinois was hiring for a front desk position, but when she arrived on her first day of training, she said she was informed that her duties would include a lot more than she was expecting.
In addition to attending to the front desk, the hiring manager at the Hampton Inn informed the new worker that she would be responsible for cleaning the hotel's common areas and had to help fold laundry, she alleges. "So you mean to tell me you send these people home before the laundry done because y'all don't want to continue to pay them hourly?" the TikToker rhetorically asks the camera.
On top of all the additional duties, she alleges the hotel was paying $13.20 an hour, which @_sentfromheaven_ claimed was less than the state-mandated minimum wage of $15 an hour.
"She done right by sending me home… I was not gonna be cleaning shit or folding no laundry," the TikToker says. "And it's crazy because I'm looking through the papers and that shit not even in the job description."
"Hampton Inn do better. Y'all doing your employees bogus," she adds.
The video garnered over 325,000 views since being uploaded to the platform, and viewers had a lot of thoughts to share about how Hampton Inn allegedly treated its worker.
Many TikTokers applauded @_sentfromheaven_ and felt she was justified in her complaints. One user said, "People think we want to work for little to nothing like get on I have bills to pay and a life to live… call me whatever you want I'm out."
"Companies paying $13 hour an expecting $100/hr work ethic like byeeee," said another.
This isn't the first time on TikTok that a worker has complained about being overworked for minimum wage. One user recently recounted her experience of single-handedly keeping a restaurant running while being paid minimum wage, while another post called out a misleading job listing that stated a $13-an-hour pay rate, when the company actually paid only $7.50 an hour.
"I had the same thing an unfortunately I put up with it for a year and a half. Paid minimum wage but doing 3 different jobs not just the 1 I was hired 4," said one person in @_sentfromheaven_'s comments. Another shared, "I worked for Hampton Inn for a year. I was so underpaid and under appreciated. Worst job I ever had. I was mistreated by the general manager too."
These complaints aren't without merit. According to a report from Dave Gilson at Mother Jones, the U.S. economy has grown nearly 60% in the past 20 years, but income and wages have remained the same for most households. As one commenter on @_sentfromheaven_'s post pointed out, "Nobody can live off $13.20 these days. Maybe it's a blessing they sent you home so you can find something better."
A number of viewers clarified that minimum wage in Bourbonnais is actually $13, not $15 as @_sentfromheaven_ claimed in her video. While the TikToker acknowledged her mistake, she still believes that it "does not excuse the 6 jobs in one."
The Daily Dot reached out to user @_sentfromheaven_ via TikTok comment and direct message and to Hampton Inn via email.
Sign up to receive the Daily Dot's Internet Insider newsletter for urgent news from the frontline of online.
The post 'Companies paying $13 hour an expecting $100/hr work ethic': Hampton Inn worker says she was sent home her first day of training appeared first on The Daily Dot.