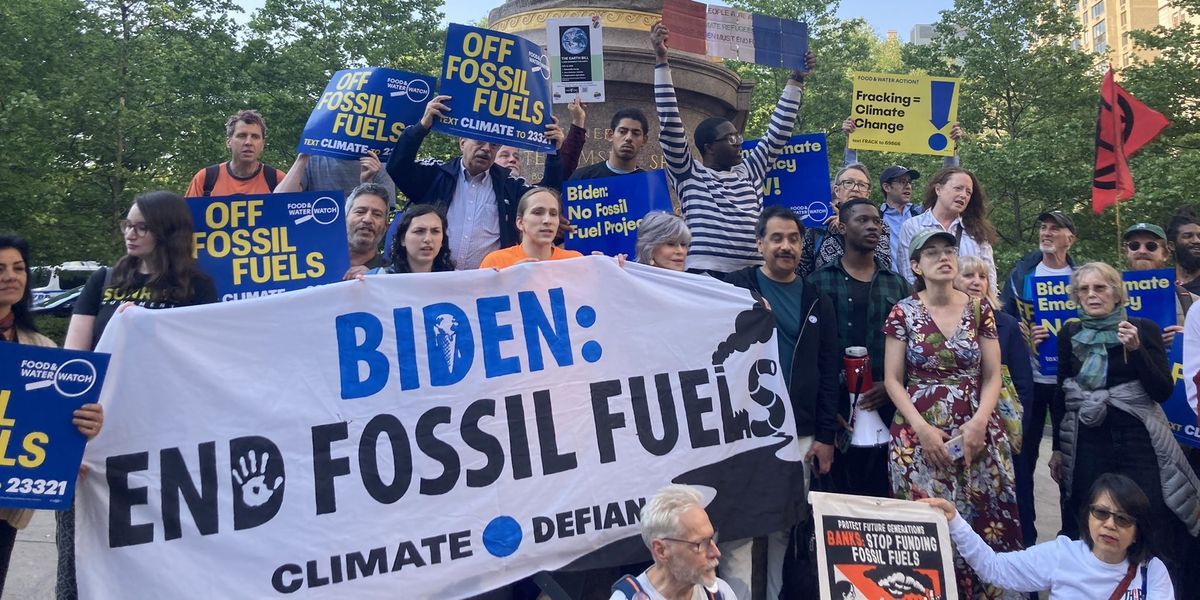 Climate campaigners including actress and activist Jane Fonda and human rights lawyer Steven Donziger took over New York's Fifth Avenue Wednesday night outside a $25,000-per-plate fundraiser for President Joe Biden's reelection bid.
The coalition of protesters assembled under the banner of Climate Defiance, which broke onto the scene by blockading the White House Correspondents' Dinner last month. The activists called on Biden to honor his climate commitments as he seeks reelection.
"The goal was to call out President Biden on his backtracking on climate and to make sure that people understand he promised to be better on climate than he has been," New York Communities for Change senior director of data and research José González, who attended the protest, told Common Dreams.
\u201cBIG UPDATE: today we took over the entirety of Fifth Avenue, right outside Biden\u2019s $25,000-per-plate fundraiser.\n\nDiscontent is brewing. Revolution is in the air. The uprising is imminent. Buckle up.\u201d

— Climate Defiance (@Climate Defiance) 1683776541
Climate Defiance is a new group that uses nonviolent direct action to push for climate policies in line with scientific reality. Their goals include ending oil and gas drilling on public lands and waters, stopping the practice of allowing frontline communities to serve as "sacrifice zones" for extractive industries, and making support for fossil fuels as taboo on the left as opposing abortion rights or gay marriage. They proposed the idea for Wednesday's protest, while New York Communities for Change helped to coordinate local participation, González said.
One of Climate Defiance's goals is to "make clear to Democratic lawmakers that the youth vote will only deliver for them if they deliver for us," and this last point was a major theme at Wednesday's protest, which took place blocks away from the Upper East Side home of former Blackstone executive Tony James, where Biden was attending a $25,000-per-plate fundraiser for his 2024 reelection campaign, The Villager reported.
"The president is over there taking corporate money," Donziger—who challenged Chevron over oil spills in the Ecuadorian Amazon and ended up under house arrest when the company retaliated against him—said at the protest, as the Independent reported. "He claims to be the climate president yet he's taking corporate money from these industries that are destroying the planet. You cannot do both."
"He was elected by people who were very concerned about it, who trusted him."
Young and climate-focused voters have felt betrayed by Biden after he ran on a promise to end fossil fuel extraction on public land, but has since approved more oil and gas drilling permits during his first two years than former President Donald Trump during the same timeframe.
"He was elected by people who were very concerned about it, who trusted him," González told Common Dreams.
Biden has especially come under fire for approving the controversial Willow project in Alaska, which could release around 280 million metric tons of carbon dioxide into the atmosphere, despite the fact that the International Energy Agency has said that governments must avoid new fossil fuel developments if they want to reach net-zero by 2050 and limit global warming to 1.5°C above preindustrial levels.
Michael Greenberg of Climate Defiance criticized Biden for attending a dinner at an apartment worth $29.4 million while refusing to respond to the more than three million people who signed a petition opposing the Willow project. Greenberg observed that the president's approval ratings have decreased since he approved the ConocoPhillips' drilling plan.
"Climate voters elected Joe Biden and we cannot and will not be ignored," Greenberg said.
\u201cMichael Greenberg of @ClimateDefiance called out Biden for his fundraiser costing $25,000 per donor and being hosted by a billionaire.\n\nHe notes that Biden hasn't responded to the 3 million people who petitioned to cancel the Willow Project.\n\n"Climate voters elected Joe Biden and\u2026\u201d

— Ford Fischer (@Ford Fischer) 1683777511
Laura of the Sunrise Movement—which helped get out the youth vote for Biden in 2020— implied in an interview with Jon Farina that the president was hurting his 2024 chances by not taking a stronger stand against new fossil fuel projects.
"We can't tell people to vote for him in the next election if he is not going to protect our planet, protect our future, and phase down fossil fuels in the next six, seven years," Laura said.
\u201cLaura with the @sunrisemvmt told @JonFarinaPhoto that Biden needs to "honor that promise" he made of "no new drilling. Period. Period. Period."\n\n(Biden indeed promised this on the campaign trail, then approved new drilling with the Willow Project.)\n\n"We can't tell people to vote\u2026\u201d

— Ford Fischer (@Ford Fischer) 1683777511
The 50 to 100 activists first gathered in Doris C. Freedman Plaza for a rally, then marched up Fifth Avenue toward the building where the fundraiser was being held. Gonzalez said they made it within eye-shot of the building before the 10 to 12 police barricading the street stopped their progress.
Chants included, "Joe Biden, get off it. Put people over profit," and, "We need clean air! Not another billionaire!"
\u201cWith dozens of NYPD trailing them the entire way and more in front of them as they arrived in front of Biden's high-dollar fundraiser, the @ClimateDefiance coalition marched and chanted "These fossil fuels have got to go!"\n\n"We need clean air! Not another billionaire!"\u201d

— Ford Fischer (@Ford Fischer) 1683777511
Among the coalition were members of Sunrise Movement NYC, New York Communities for Change, Food & Water Watch, Climate Defenders, Climate Families NYC, and Reclaim Our Tomorrow, González confirmed.
He said that he sensed a shift in tone at the demonstration, as people who were worried about the climate emergency and angry at Biden's actions or lack thereof felt prepared to take their activism to the next level, and he said this was reflected in Fonda's remarks.
"Now is the time for civil disobedience, right?" she asked the crowd. "We've marched. We've protested. We've written. We've made speeches. We have to up the ante now to save our planet and our future. The window on that is closing rapidly, and we have to do something about it, and we have to be very brave."
\u201cI joined the inspiring @Janefonda at a rally this evening in NYC outside a Wall Street fundraiser for President Biden. Her simple message: we must put our bodies on the line to save the planet.\n\n"Now is the time for civil disobedience."\u201d

— Steven Donziger (@Steven Donziger) 1683762904
González also said that passersby seemed more eager than usual to give their numbers and get involved, and that they only faced one right-wing counterprotester.
Going forward, González said the coalition represented by Wednesday's protest will continue to put pressure on Biden across the country.
"I don't think we see a choice," he said. "This has to happen now. There needs to be a plan to wean the country, the world off of fossil fuels. That's what we want."