The U.S., England, Wales and Iran all have encountered problems entering the World Cup, adding another layer to an already deep and intriguing group.
For all of the star power on display, Group B features four teams entering the tournament with serious questions. The U.S. stumbles into Qatar in poor form, with a drubbing at the hands of Japan and an indifferent draw with Saudi Arabia in its final warmups. England was relegated from its group in the UEFA Nations League after a string of defeats. Wales has won one of its last eight matches. Iran fired manager Dragan Skočić in July despite an excellent qualifying run and brought back Carlos Queiroz for a third Cup, while its players have been involved with anti-government protests.
Watch the 2022 World Cup with fuboTV: Start your free trial today!
Yet in international competition, where the games can often be cagey and choppy, talent should be enough to win through in this group. England was at one point the betting favorite to win the whole tournament, and for good reason—the Three Lions have one of the most complete rosters in the world, led by captain Harry Kane. And while the U.S. has talented players at big clubs around the globe, the fact remains that the Americans have been held without a goal in six of their last seven games against teams in this field. That lack of firepower could leave the door open for Wales and Iran.
CHAOS COMPONENT
Gareth Bale's always turned in his best performances while wearing the colors of Wales. Never mind his drab form in MLS (two goals in 12 regular-season games for LAFC), and Wales's run of five matches without a win. Bale's 40 international goals are a reminder of his ability, which should put the rest of the group on alert.
HISTORY LESSON
The most famous World Cup victory for the U.S. came in 1950, when Joe Gaetjens gave the Americans a 1–0 win over England. In their last World Cup meeting, in 2010, they drew 1–1, prompting the New York Post to run the headline: USA Wins 1–1. The sides will meet on Black Friday.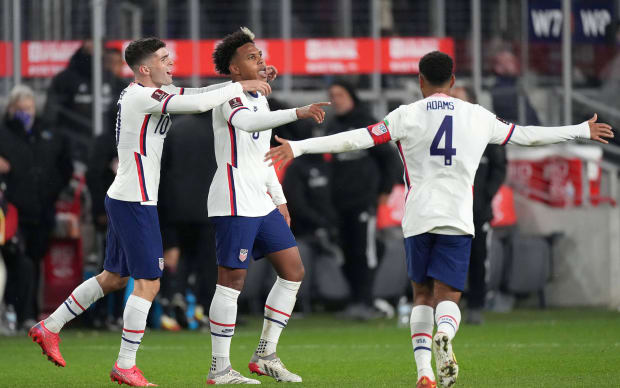 GAME OF THE GROUP
England vs. Wales, Nov. 29
England and Wales have a rich, complex rivalry that has been one- sided: England has won the last six matchups. But they have never met in the World Cup—until now. 
GO DEEPER
Team profiles and squad lists for: England | Iran | United States | Wales
PROJECTED GROUP FINISH
England, USA, Iran, Wales
ENGLAND
To win the group (-300) | To win the World Cup (+800)
UNITED STATES
To win the group (+500) | To win the World Cup (+12500)
WALES
To win the group (+500) | To win the World Cup (+12500)
IRAN
To win the group (+1600) | To win the World Cup (+50000)