Among the executives with whom I spoke, a Boston deal with Jaylen Brown as the centerpiece appears to be the unofficial front-runner here. In general terms, sources say the Nets are using the fact that the Celtics (and perhaps other teams) have made their second-best player available as a baseline of sorts in negotiations. Translation:
If you're still trying to discuss a Kevin Durant deal without putting your second-best talent on the table, then just stop wasting everyone's time and bow out of this race
.
Source:
Sam Amick @ The Athletic
What's the buzz on Twitter?
Sam Amick
@
sam_amick
What have we learned about star player trade demands in the past? From the Melo-drama to Chris Paul in New Orleans, the Dwight-mare, Harden, Ben Simmons and more – all the way to Kevin Durant. A deeper look at 10 examples with takeaways, at
@TheAthletic
theathletic.com/3509122/2022/0…
–
11:07 AM
Brady Hawk
@
BradyHawk305

New
@5OTF_

@GregSylvander
and I quickly go through the news of the day such as Kevin Durant and UD
Then we get into all things Max Strus:
@5ReasonsSports
podcasts.apple.com/us/podcast/fiv…
–
10:22 AM

Cameron Tabatabaie
@
CTabatabaie
Not sure there was a way KD could have really answered this question in a satisfactory way, or that he even needs to. But that response is dismal.
pic.twitter.com/xQh76Se1qc
–
10:22 AM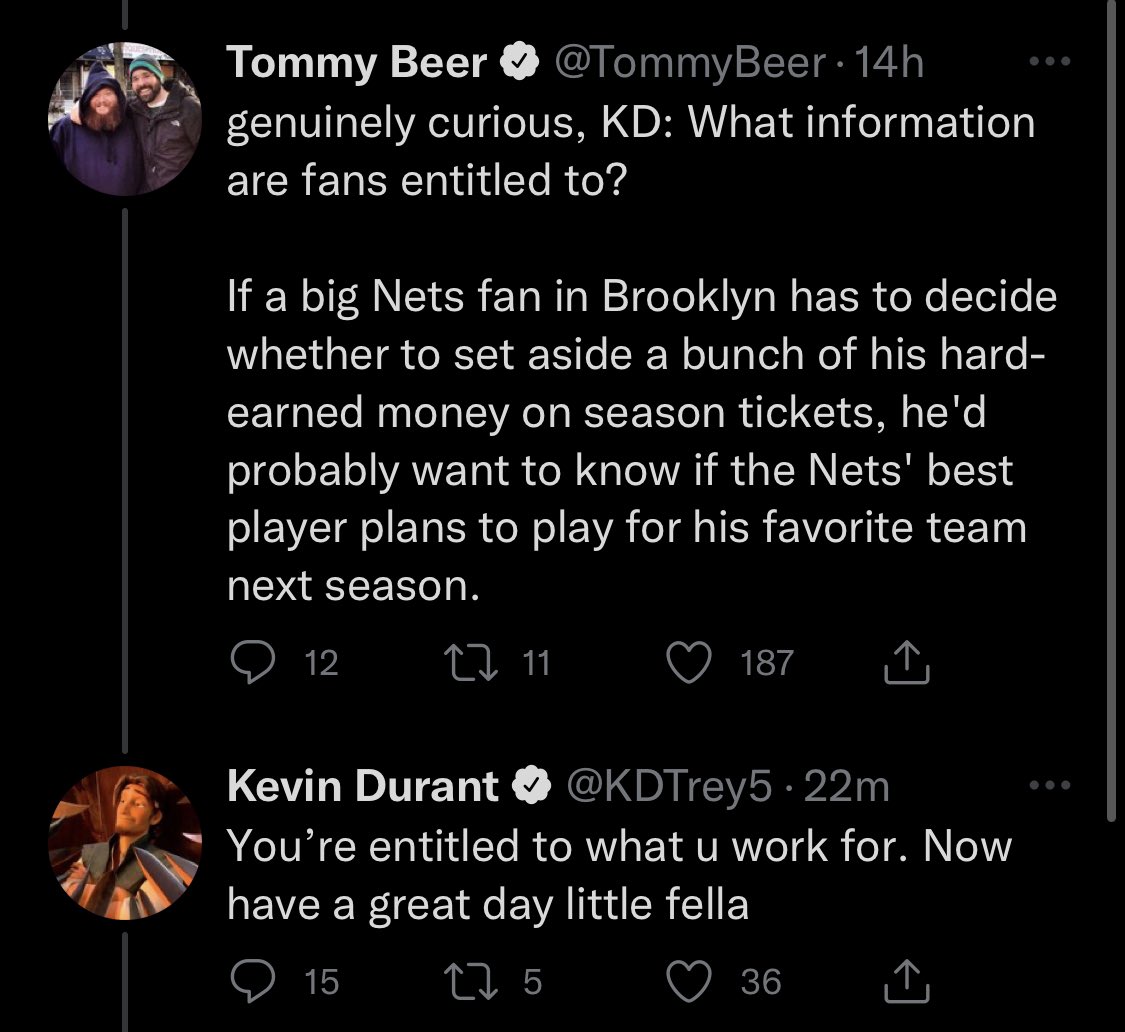 Emiliano Carchia
@
Sportando
Kevin Durant says he doesn't plan on retiring anytime soon
sportando.basketball/en/kevin-duran…
–
9:47 AM
Christian Clark
@
cclark_13
Brandon Ingram and Zion have played in 81 games together, 59 of which came in the COVID-compressed, SVG-coached season.
Why I think it's unlikely the Pels enter the KD sweepstakes + 5 early questions as we inch toward training camp.
nola.com/sports/pelican…
–
9:16 AM

Peter Vecsey
@
PeterVecsey1
This just in: Steve Nash said he'd rather retire than coach Kevin Durant. –
11:33 PM
Dave Mason
@
DeuceMason
We are LIIIIIIIIVE!
Talking NBA schedule, Pete Carril and the latest on KD:
https://t.co/8gdu2GKNSu
pic.twitter.com/EDcSriUXV1
–
9:57 PM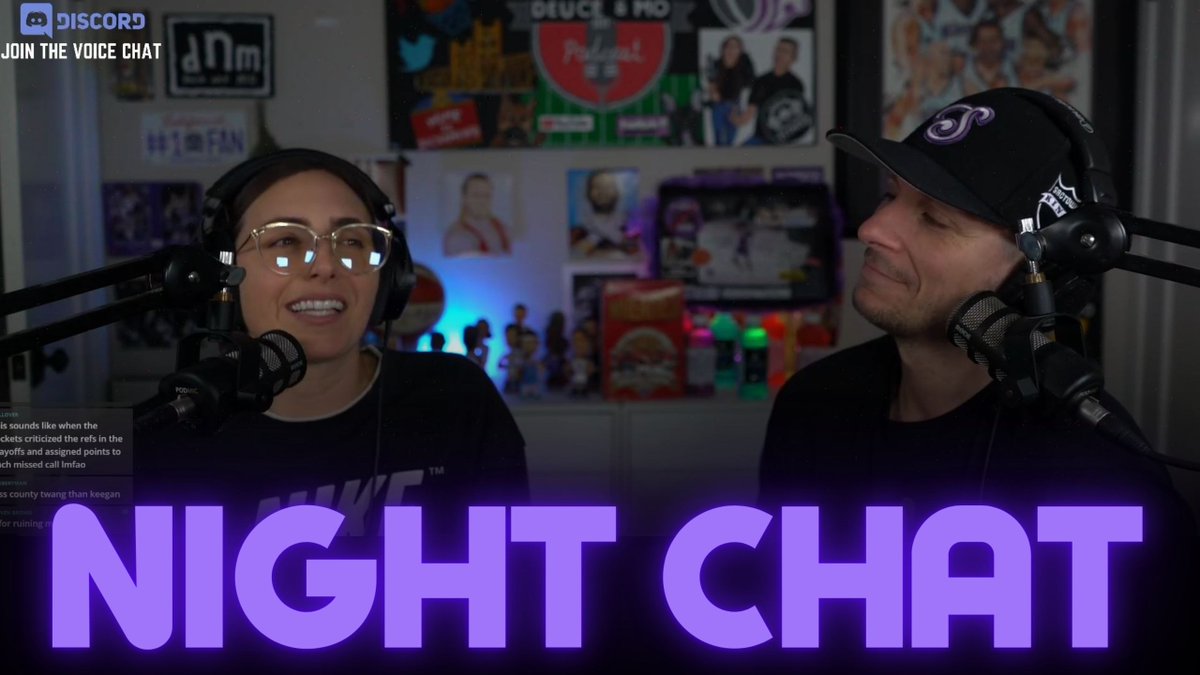 NBA on ESPN
@
ESPNNBA
KD and Tatum in the lab together

(

: @bredhampton)
pic.twitter.com/1wj1IgayC0
–
9:22 PM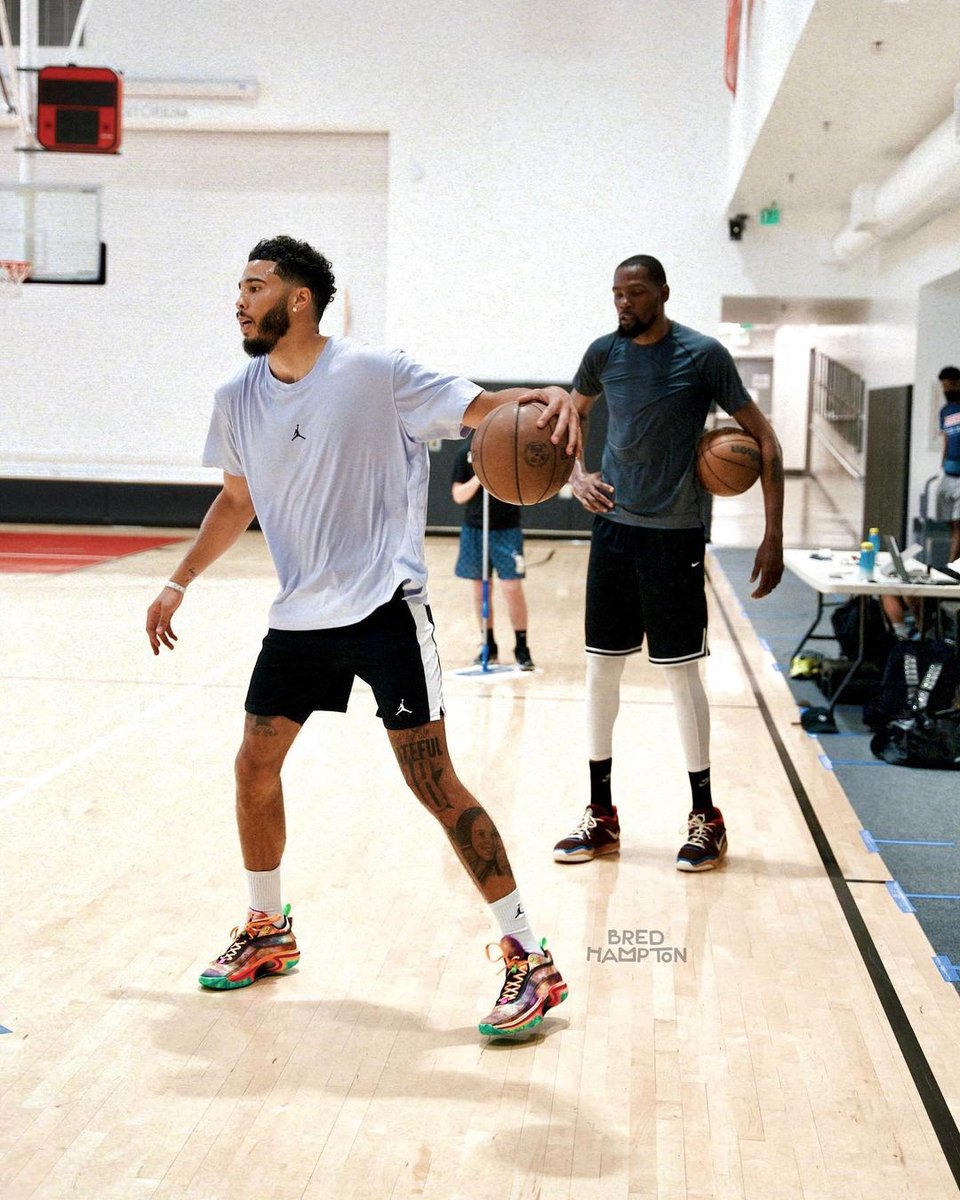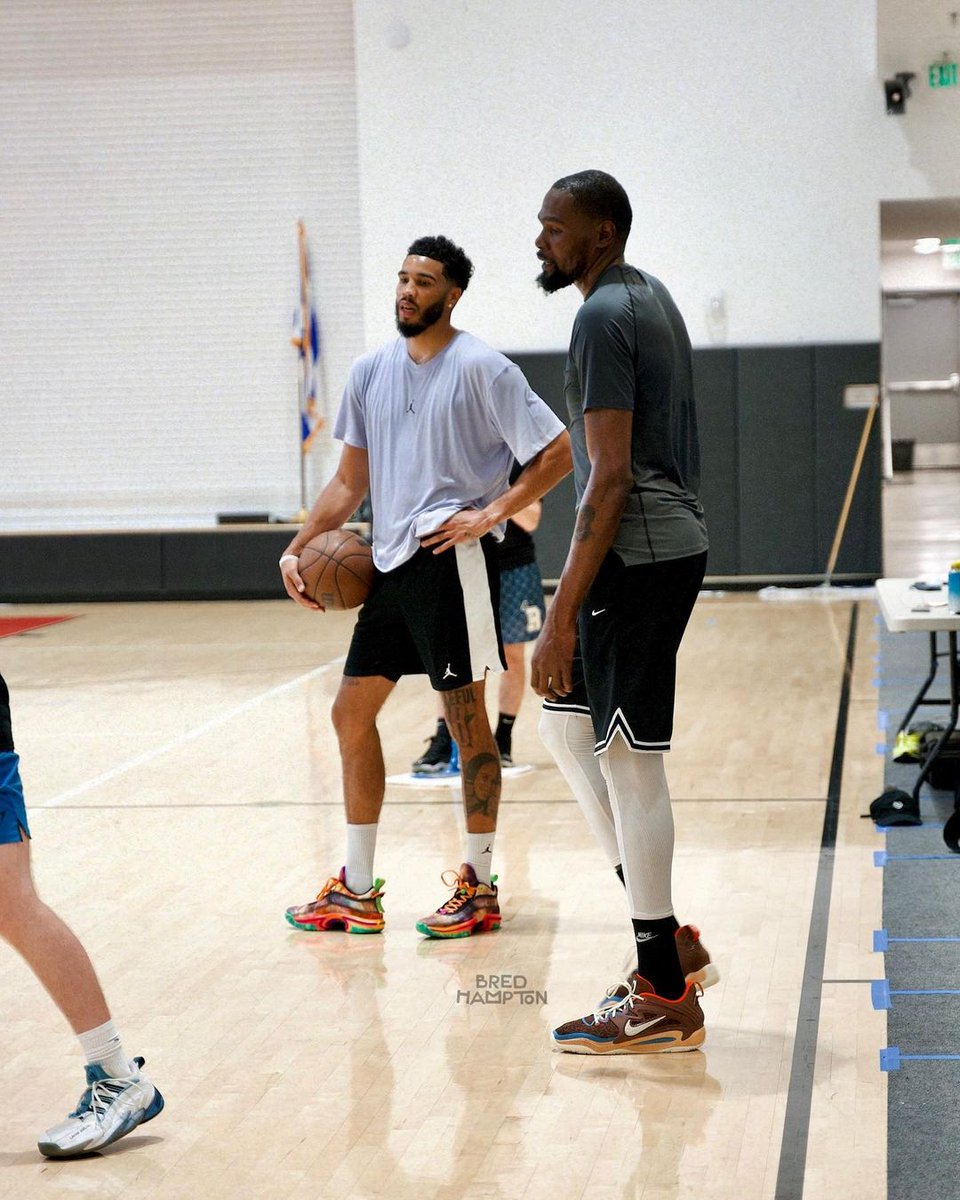 Evan Sidery
@
esidery
There is a precedent where a superstar doesn't get what he wants in the end. Paul George desired the Lakers, but Indiana traded him to OKC.
As the Kevin Durant saga continues, a few teams could come out of nowhere in similar fashion (via
@basketbllnews
):
basketballnews.com/stories/nba-tr…
–
8:39 PM

Brian Lewis
@
NYPost_Lewis
Kevin Durant pushes back against retirement rumor amid
#Nets
drama: 'S–t is comical'
nypost.com/2022/08/15/kev…
via
@nypostsports
–
8:35 PM
Gerald Bourguet
@
GeraldBourguet
Of course the NBA schedule is gonna drop while I'm on a flight to Hawaii. It was either that or a KD trade –
7:27 PM

Kurt Helin
@
basketballtalk
Durant shoots down 'rumor' he would rather retired than play for Nets
nba.nbcsports.com/2022/08/15/dur…
–
6:37 PM
Sean Highkin
@
highkin
Just can't get interested in Durant updates anymore until he actually gets traded. –
6:31 PM

Kevin Durant
@
KDTrey5
I know most people will believe unnamed sources over me but if it's anyone out there that'll listen, I don't plan on retiring anytime soon. Shit is comical at this point. –
5:48 PM

Keith Smith
@
KeithSmithNBA
New
@FrontOfficeShow
is up!
@Trevor_Lane
and I fire the Kevin Cannon and talk some KD news, then we get into the NBA Christmas Day schedule. And to wrap the show, we talk about the Detroit Pistons offseason! Watch, like and subscribe below. 20K subs soon!
youtu.be/jbDeDlCd0D0
–
4:19 PM

NBA on ESPN
@
ESPNNBA
Iggy weighs in on KD

(via @pointforward)
pic.twitter.com/T2UodaVnLA
–
3:41 PM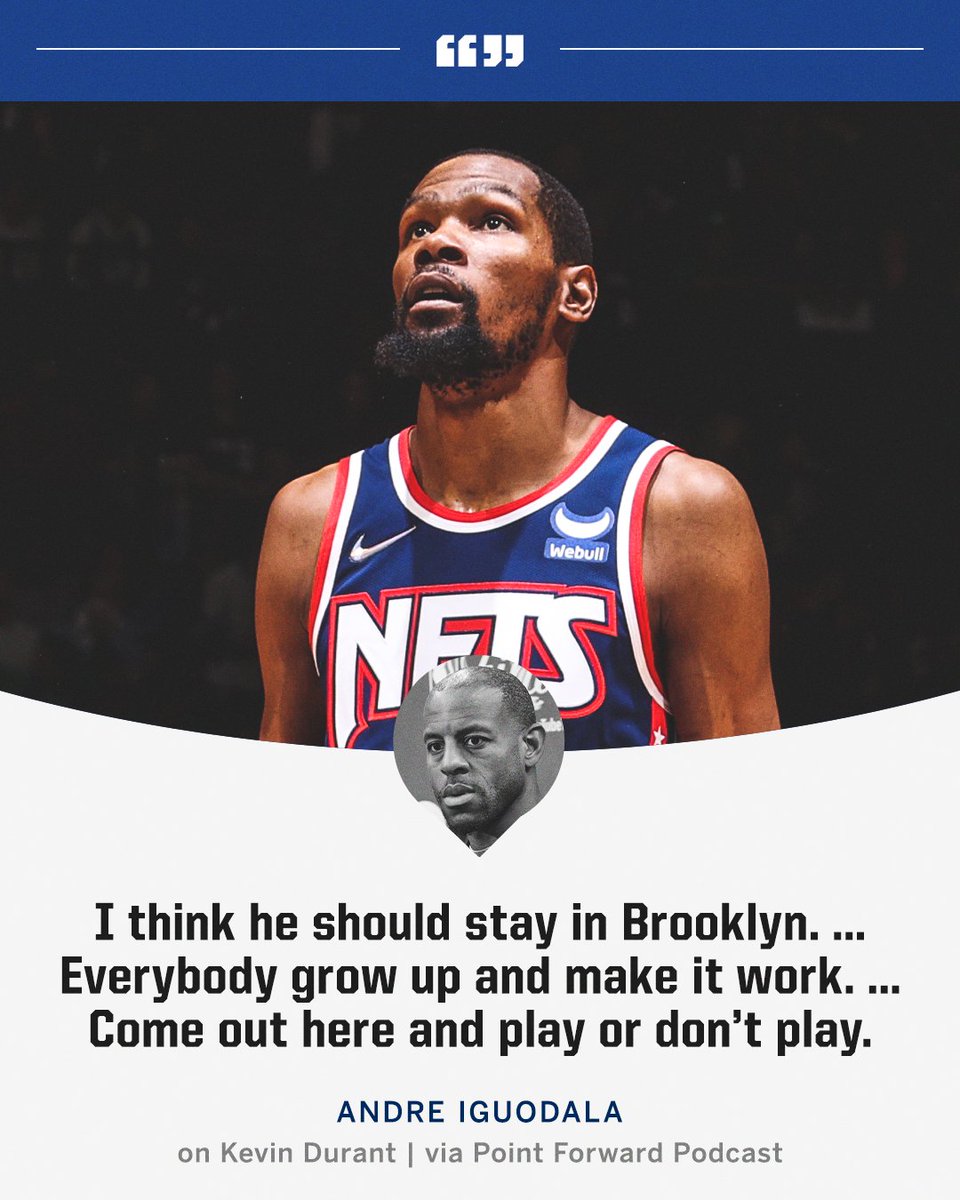 Kurt Helin
@
basketballtalk
What is next in Kevin Durant trade saga? Test of wills at training camp.
nba.nbcsports.com/2022/08/15/wha…
–
12:49 PM

Marc Stein
@
TheSteinLine
My Monday Musings offer the latest from the Durant Trade Watch … and the Nets' ill-fated attempt to wrest control of the franchise they haven't had for three seasons:
marcstein.substack.com/p/durant-trade…
–
12:36 PM

StatMuse
@
statmuse
Who wins this series?
Team International:
— Luka Doncic
— Andrew Wiggins
— Giannis Antetokounmpo
— Joel Embiid
— Nikola Jokic
Team USA:
— Steph Curry
— Kawhi Leonard
— LeBron James
— Kevin Durant
— Anthony Davis
pic.twitter.com/o6Kplui4GL
–
12:22 PM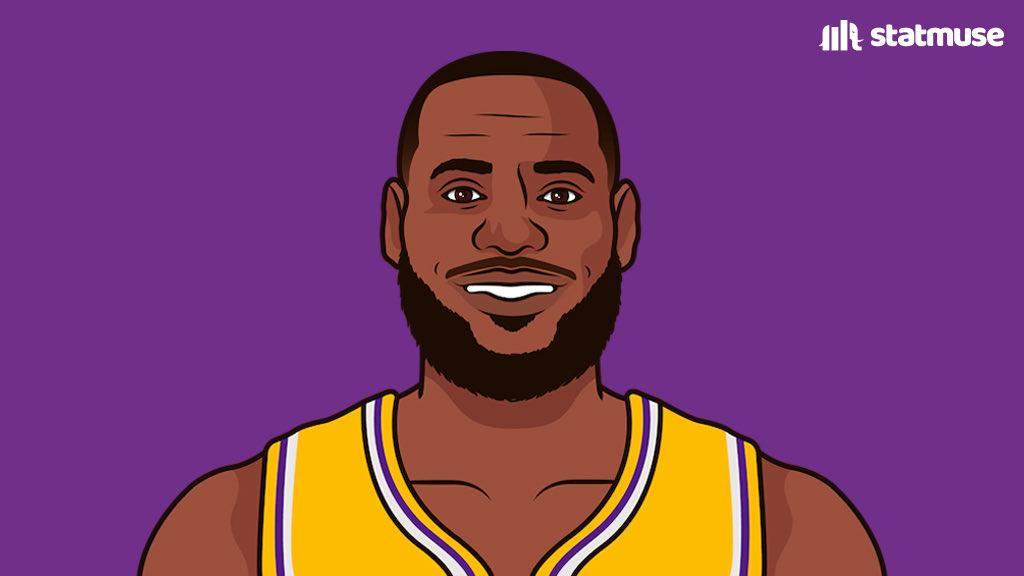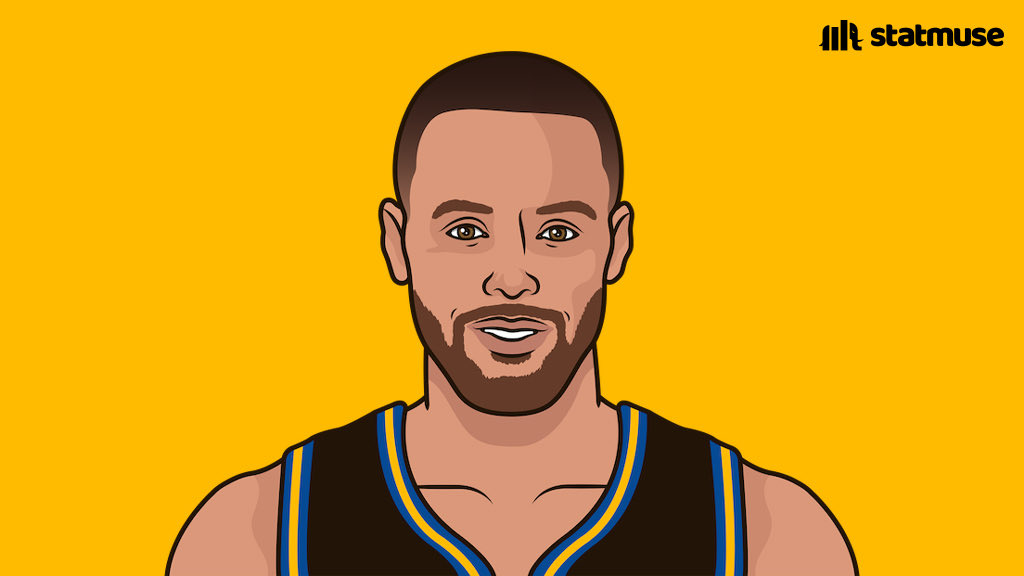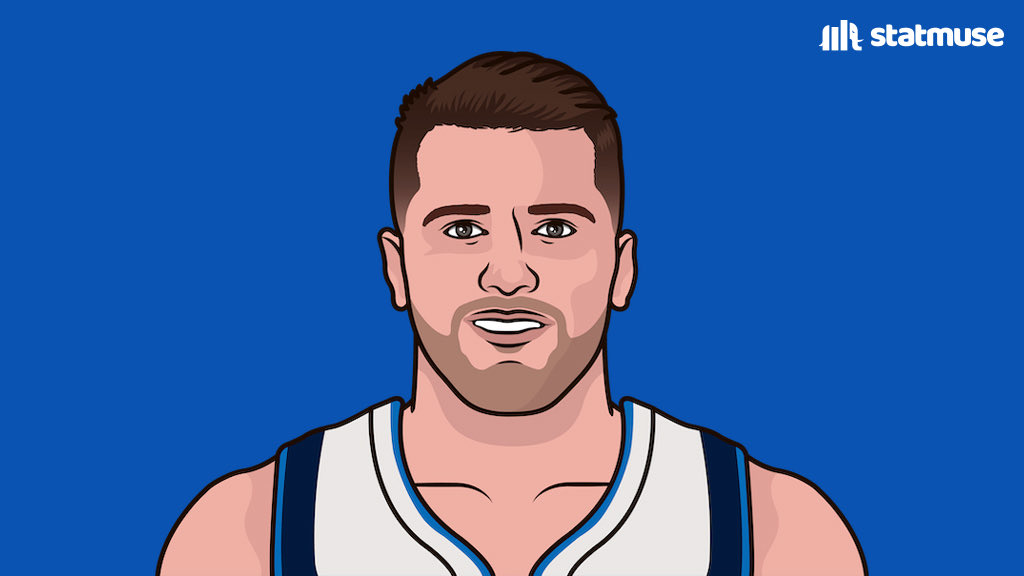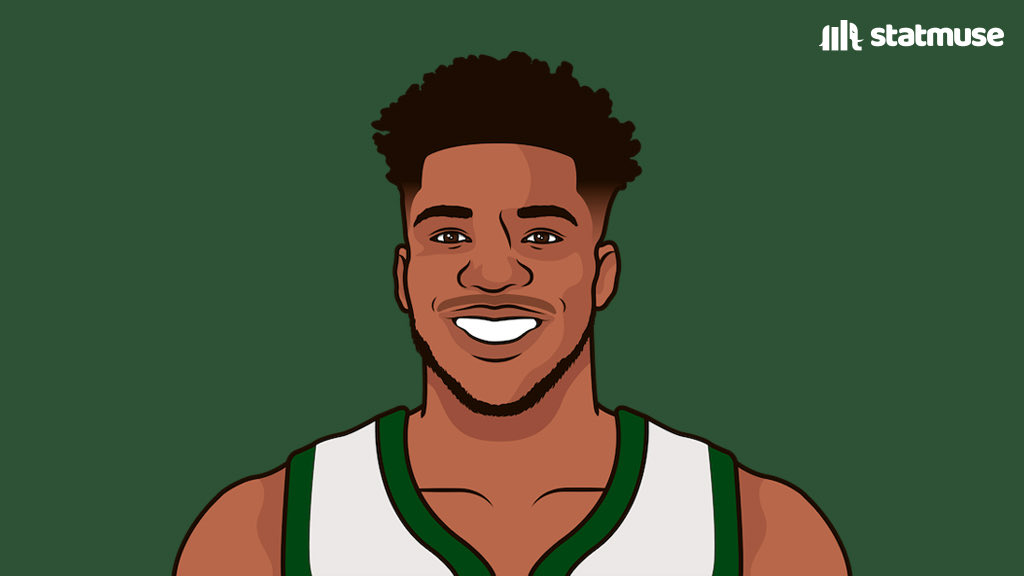 Sirius XM NBA
@
SiriusXMNBA
"He might start the year in Brooklyn."
Tim Legler is starting to think that all the Kevin Durant news the last 6 weeks won't lead to any trade
@LegsESPN |
@Vincent Goodwill
pic.twitter.com/y1yJoBRU32
–
11:36 AM
This is some next-level boldness from Durant, to say the least. And while he made it clear (via Twitter) on Monday that speculation about his possible retirement is off-base, the ironic question now becomes: If a trade doesn't materialize before Nets camp begins in late September, is Durant willing to go full Jimmy Butler if he doesn't get what he wants? Or, perhaps, will he go the route of his Nets teammate Simmons and not report to camp (as Simmons did in Philadelphia last season)?
Most folks around the league with whom I spoke seem to believe the answer is no, but we shall see
. -via
The Athletic
/ August 16, 2022 As for the notion that the Marks-Nash ultimatum might speed up the process by forcing the Nets to lower their lofty demands in a deal, I didn't find much support for that idea either.
"Marks is still asking for the world; that won't change," one front office executive texted late last week. "They could call his bluff and make him come to camp. I can't see him sitting out."
-via
The Athletic
/ August 16, 2022 At 7-foot-3, Victor Wembanyama has shown an immense level of skill, and he seems destined to be a major force in the NBA. As
it turns out, the youngster seems well aware of his rare combination of size and speed, and he recently admitted that he has been modeling his game after those of Kevin Durant and Giannis Antetokounmpo, two of the rarest and most dominant specimens currently in the NBA. "If I gotta pick two, I'd say Giannis and K.D.," he said. "Those are my two favorite players."
-via
ahnfiredigital.com
/ August 16, 2022