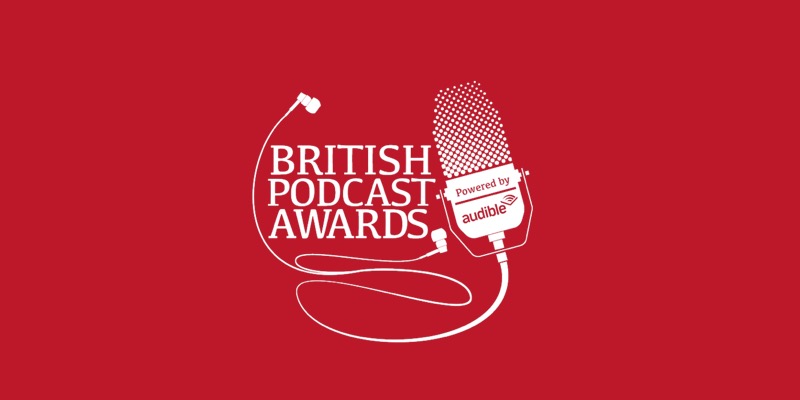 All the winners have been announced at the 2022 British Podcast Awards in London's Kennington Park.
One of the biggest awards of the night, the Podcast Champion, went to You, Me and the Big C. The award honoured the work of Dame Deborah James, Rachel Bland, Lauren Mahon and their entire team, whose podcast has contributed hugely to public awareness and perception of cancer and cancer treatment, but has also been a source of solace for so many.
The only award voted for by the public, The Listeners' Choice Award, saw over 60,000 votes cast. The top spot this year was won by RedHanded for a second time. The true crime podcast offers a weekly dose of murder, wit and 'WTFs', hosted by Hannah Maguire and Suruthi Bala.
Elis James and John Robins hosted the event, alongside Pandora Sykes, Jamie Laing & Sophie Haboo, My Dad Wrote a Porno, Sabrina Elba, Poppy Jay, Jon Sopel, RedHanded, The Receipts' Tolani Shoneye and Dr Rupy.
Full list of winners:
PODCAST OF THE YEAR supported by Audible
Presented by Jesse Lawson of VENT Documentaries
WINNER: Dear Daughter – BBC World Service
PODCAST CHAMPION
WINNER: You, Me and the Big C
LISTENERS' CHOICE AWARD supported by Acast+
Presented by Jon Holmes
WINNER: RedHanded
MOMENT OF THE YEAR supported by Audio UK
Presented by RedHanded podcast
GOLD: Coiled – Leanne Alie
SILVER: Chinese Chippy Girl – Georgie Ma
BRONZE: Masala Podcast – Sangeeta Pillai and Orbis The Studio
BEST ARTS & CULTURE PODCAST supported by Pod Bible
Presented by Reed Amber
GOLD: James Acaster's Perfect Sounds – BBC Audio for BBC Sounds
SILVER: Legends Fall In The Making – BBC Studio's Factual Podcast Unit for 1Xtra
BRONZE: Beauty Fix – BBC Audio for BBC Sounds
BEST BRANDED CONTENT
Presented by Kem Cetinay
GOLD: Forced to Flee – UNHCR
SILVER: Youth Rising by NCS – Somethin' Else for NCS
BRONZE: Lives on the Lines – Fresh Air Productions & Greater Anglia Trains
BEST BUSINESS PODCAST supported by Subly
Presented by Danny Robins
GOLD: Money Talks – The Economist
SILVER: Ninetwentynine – Listen for Fiverr
BRONZE: Money Clinic – Financial Times
BEST COMEDY PODCAST supported by Amazon Music
Presented by Cariad Lloyd
GOLD: Jamali Maddix: Spooky Shit – Novel for Audible
SILVER: This is Gay – Kirk Flash
BRONZE: Cold Case Crime Cuts – unusual 
BEST CURRENT AFFAIRS PODCAST
Presented by Jon Sopel
GOLD: Media Storm – The House of the Guilty Feminist
SILVER: The Intelligence – The Economist
BRONZE: The Slow Newscast – Tortoise Media
BEST DAILY PODCAST
Presented by Tolani Shoneye
GOLD: Everyday Positivity – Kate Cocker for Volley
SILVER: COP26 Daily – Big Light Podcast Network
BRONZE: Today in Focus – The Guardian
BEST DOCUMENTARY PODCAST
Presented by Miranda Sawyer
GOLD: The Bias Diagnosis – Whistledown Productions for Audible
SILVER: Harsh Reality – Novel for Wondery
BRONZE: Have You Heard George's Podcast? – George the Poet for BBC Sounds & BBC Radio 5 Live
BEST ENTERTAINMENT PODCAST supported by Create Podcasts
Presented by James Barr & Dan Hudson
GOLD: Decode – Reduced Listening for Spotify
SILVER: Feast is Feast with Big Zuu – Global
BRONZE: Shagged, Married, Annoyed – Chris & Rosie Ramsey
BEST FAMILY PODCAST
Presented by Jamie Laing & Sophie Haboo
GOLD: Dear Daughter – BBC World Service
SILVER: Super Great Kids' Stories – Wardour Studios
BRONZE: Armchair Adventures – Made By Mortals
BEST FICTION PODCAST
Presented by Ki & Dee (Chiara Hunter & Diana Vickers)
GOLD: Soundworlds – Patrick Eakin Young
SILVER: Fully Amplified – Future Theatres
BRONZE: Atlantic: A Scottish Story – Noisemaker & The Big Light
BEST INTERVIEW PODCAST supported by Podfollow
Presented by Jamie Bartlett
GOLD: Stories of Our Times – The Times & Sunday Times
SILVER: Tales From The Tannoy – Sayer Hamilton
BRONZE: Masala Podcast – Sangeeta Pillai and Orbis The Studio
BEST LIVE PODCAST 
Presented by Zeze Millz & Sideman
GOLD: The Empire Film Podcast – Chris Hewitt, James Dyer & Helen O'Hara
SILVER: Nobody Panic – Plosive, Tessa Coates and Stevie Martin
BRONZE: The Guilty Feminist – Deborah Frances-White
BEST NEW PODCAST
Presented by Mr Motivator
GOLD: Outcast UK – Graeme Smith
SILVER: Decode – Reduced Listening for Spotify
BRONZE: Ignite Climate Shorts – Fierce Green Producers
BEST RADIO PODCAST
Presented by Pressed podcast
GOLD: Our Journey – Miranda Rae for Sound Women South West
SILVER: A Wish For Afghanistan – BBC Long Form Audio
BRONZE: The Great Post Office Trial – Whistledown Productions for BBC Radio 4 and BBC Sounds
BEST SEX & RELATIONSHIPS PODCAST
Presented by Poppy Jay
GOLD: Assume Nothing: Rape Trial – BBC Northern Ireland
SILVER: A Gay and A NonGay – James Barr, Dan Hudson & Talia Kraines
BRONZE: The Divorce Social with Samantha Baines – Samantha Baines
SMARTEST PODCAST
Presented by Pandora Sykes
GOLD: Decode – Reduced Listening for Spotify
SILVER: Have You Heard George's Podcast? – George the Poet for BBC Radio 5 Live & BBC Sounds
BRONZE: The Unfiltered History Tour – VICE World News
BEST SPORT PODCAST
Presented by Tom Whalley
GOLD: The Fake Paralympians – BBC Long Form Audio for BBC World Service
SILVER: Football Ramble Presents – Stak
BRONZE: Fight of the Century: Ali v Frazier – TBI Media for BBC Radio 5 Live & BBC Sounds
BEST TRUE CRIME PODCAST supported by Wondery
Presented by Matt Forde
GOLD: The Catch – Message Heard for Audible
SILVER: Wild Crimes for the Natural History Museum – Whistledown Productions for the Natural History Museum
BRONZE: The Northern Bank Job – BBC Northern Ireland for BBC Radio 4 & BBC Sounds
THE CLIMATE AWARD
Presented by Claire Holland, leader of Lambeth Council
GOLD: Get Birding – Peanut & Crumb
SILVER: The Long Time Academy – Scenery Studios, The Long Time Project and Headspace Studios
BRONZE: Chattin' Shit to Save the Planet – Chattin' Shit & Acast Creative for Virgin Media O2
BEST WELLBEING PODCAST supported by Audible
Presented by Sabrina Elba
GOLD: Effin' Hormones – Helen, Emma, Terri and Beena 
SILVER: Manatomy – Danny Wallace, Phil Hilton & Joe Attewell
BRONZE: Declassified – Michael Coates, Des Fraser and Nathan Jones
BEST WELSH PODCAST
Presented by Sian Eleri
GOLD: Gwrachod Heddiw – Mari Elen Jones
SILVER: Siarad Secs – Astud Media for BBC Sounds
BRONZE: Cwîns efo Mari a Meilir – Mari Beard & Meilir Rhys Williams
BEST NETWORK OR PUBLISHER
Presented by Elis James & John Robins
GOLD: Mags Creative
SILVER: Stak
BRONZE: BBC Radio 5 Live
THE CREATIVITY AWARD supported by Audible
Presented by Grace Barry
GOLD: Have You Heard George's Podcast? – George the Poet for BBC Radio 5 Live & BBC Sounds
SILVER: Soundworlds – Patrick Eakin Young
BRONZE: Operation Ouch! The Podcast of Everything – Maverick Television & Listen
BEST SALES TEAM
Presented by Elis James & John Robins
GOLD: Fresh Air Production
SILVER: Adelicious
BRONZE: Message Heard Sales Team
BEST MARKETING CAMPAIGN
Presented by Elis James & John Robins
GOLD: Exactly with Florence Given
SILVER: Anthems
BRONZE: Sweet Bobby
BEST COMMERICAL CAMPAIGN
Presented by Elis James & John Robins
GOLD: Money Talks – Klarna & Acast Creative
SILVER: Comfort Eating with Grace Dent – Guardian News and Media)
BRONZE: Ed Sheeran's Mathematics Tour – Fun Kids
BBC SOUNDS RISING STAR
Presented by My Dad Wrote a Porno (Jamie Norton, James Cooper)
GOLD: Kirk Flash
SILVER: Meera Kumar
BRONZE: DJ Flight
THE SPOTLIGHT AWARD
Presented by Dr Xand
GOLD: British Scandal – Wondery
SILVER: Fairy Meadow – BBC Audio Bristol and BBC News for BBC Radio 4 Newscast – BBC News
BRONZE: Rose & Rosie: Parental Guidance – BBC Studios for Spotify
THE BULLSEYE AWARD
Presented by Dr Rupy
GOLD: And Then Along Came Breast Cancer – 6Foot6 and Factory Originals production for the Future Dreams Breast Cancer Charity
SILVER: Getting Emotional – Bex Lindsay
BRONZE: History Storytime – Sophie, Ellie and their Daddy