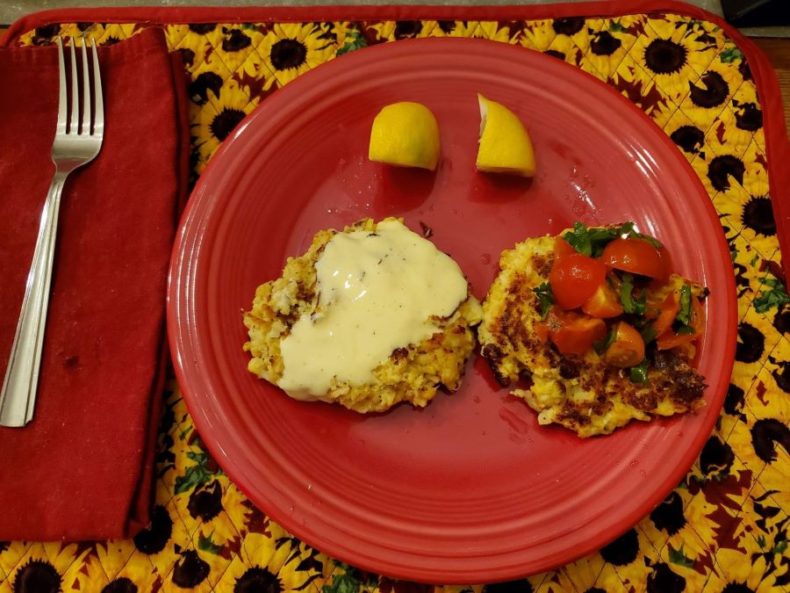 I.
We've been slowly cutting back on meat. It's better for us and better for the planet. Not to mention the exploited workers on the factory farms—did you see that John Oliver segment? After it came out, we said let's take things one step further: No more buying meat for our household from the grocery store.
Of course, we're not going to throw out all those Omaha Steaks in the freezer that our generous family sent for Christmas. And when ordering in, we'll still allow it. Also, say we go over to a friend's house for dinner—you know, eventually—and they've made a pot roast. Which is… have any of our friends ever made a pot roast? Well, you get the idea.
Point is: no need to stop cold turkey. Hah.
Speaking of which, what are we going to do about the toddler who requests a steady diet of hot dogs, pepperoni, and sliced turkey?
Well yeah, he's only three. We are the adults.
Let's try to trick him? Yes, we'll trick him.
Have you seen all the brands of fake meat out there now—fake chicken nuggets could be an aisle of their own, as if nuggets were ever a real thing.
Look: This "smart sausage" is exactly like a brat. We need to get him into ketchup to really sell it though, I think.
As long as it's covered in BBQ sauce, and not the main focus of the dish, you'd hardly know this Beyond meat wasn't real beef.
It's truly a golden age for meatless meats. The perfect time to be a part-time vegetarian.
There's no excuse not to, really.
Good for us.
II.
Why does my local recycling collector only accept numbers 1, 2, and 5? Does it matter anyway, if less than 10 percent of what we give them will end up in a new bottle, or whatever?
Yes, it does.
It does.
Even when the toddler isn't watching.
I just heard that microplastics have been found in the placenta, for god's sake. Why do my prenatal vitamins come in a plastic container?
Oh yes, we are expecting, thank you. I know, the best way to reduce our carbon impact is to reduce the human population. But you know…
I'm only a part-time vegetarian.
I'm doing my best.
Feel him kick, anyway. What if he grows up to be the next Greta Thunberg? We could reach a level of enlightenment that makes it possible to stop numbering our plastics altogether.
I use a bamboo toothbrush, recycled toilet paper. We don't have a car.
My children will notice these things.
III.
It must have been crazy living during the Cold War, going to sleep worried about nuclear annihilation. I mean, I guess I was alive then, but just an innocent unworried beyond my next nap.
Now we stay up over other things. The planet is doomed. Pandemics. Gross income inequality. Mass incarceration. Yosemite. Amy: Stop it.
What's that new diagnosis now? Eco-anxiety? Climate grief?
I mean, I don't want my kids to have that. But I should have that, at least a little bit. Right?
On the bright side, they say that asteroid isn't going to hit us now for at least another hundred years.
By then my great-grandkids will be full-time vegetarians. They'll have to be—but it won't be so bad. Our family will be ahead of the game, even, with the small adjustments we've made. We won't have to experience such a jarring lifestyle upheaval as the resistors will, when those first crops fail.
I know, I know. Melodramatic. But maybe something less dramatic, and the same fact holds.
Part-time vegetarianism is about silver linings as much as stomach linings.
IV.
Those patties sure last in the freezer! We'll have them with salad. Salad only comes in plastic. There's no farmer's market right now—and even if there were, I wouldn't go. I've only had one shot so far. We're still doing delivery groceries.
By the way, are you remembering to opt-out of plastic utensils when you order in? #CutOutCutlery
Every little bit helps.
There is no planet B.
Can't you at least be a part-time vegetarian?
_______________
Amy Dusto is a part-time vegetarian as well as a freelance science writer, aspiring novelist, and mom in Chicago. She has a lot of existential hang-ups. She wrote a post about quitting her teaching job. You can find her on Twitter @AmyDusto.