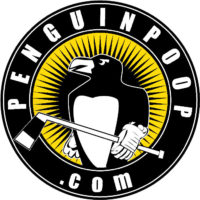 It was a favorite lyric from Bruce Springsteen's 1984 blockbuster hit, Born in the USA.
The subject of the song, a disenfranchised Vietnam vet, wails, "I'm ten years burnin' down the road, nowhere to run, ain't got nowhere to go…"
Sorry, Boss, but I've absconded with your lyrics to describe the present plight of the Penguins' third line. Or more to the point, the fact that we're still scrounging to fill Nick Bonino's skates four years down the road.
Indeed, since "Bones" departed for the warmer climes and twangy tones of the "Music City" for a cool $16.4 million during the summer of 2017, GM Jim Rutherford has had a terrible time replacing him. Or not replacing him as the case may be.
The list of would-be substitutes at third-line center reads like a cavalcade of failed experiments in lineup patching…Greg McKegg, Riley Sheahan, Derick Brassard, Nick Bjugstad and Jared McCann.
Add Mark Jankowski to the list.
Actually, I'm not being entirely fair.
Continue reading Penguins Update: Four Years Burnin' Down the Road… at Pittsburgh Penguins - PenguinPoop Blog.