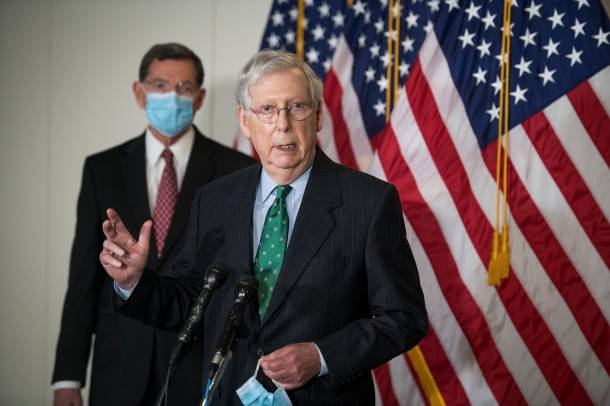 Democrats and Republicans both say that there needs to be another stimulus package before the end of the year, but they are as far apart as ever on a deal.
Democrats say that Republicans won't work with them, while Senate Majority Leader Mitch McConnell calls the latest stimulus bill from the Democrats "unserious."
Several major components of the original CARES Act expire at the end of the year, and unless Congress passes a new bill, many Americans will suffer in the near future.
---
The presidential election is over (despite a mountain of pending legal challenges), but it doesn't seem like Congress is any closer to passing another major stimulus package. Ahead of the election, the White House and House Speaker Nancy Pelosi were working with each other every day to reach a deal on a bill that might stand a chance of passing in the Senate. We never got to see what Senate Majority Leader Mitch McConnell would have done with a package that had the president's stamp of approval, though, because an agreement was never made.
Two full weeks after the election, the federal government has been all but silent on the prospects of a stimulus bill, but the fire hasn't gone out quite yet, as Congressional leaders are still floating the idea of another package being passed in 2020. The question now is how likely they are to actually make something happen.
---
Today's Best Deal
---
Today's Top Deals
Trending Right Now:
Chances of another stimulus check coming in 2020 get slimmer every day originally appeared on BGR.com on Tue, 17 Nov 2020 at 19:34:57 EDT. Please see our terms for use of feeds.